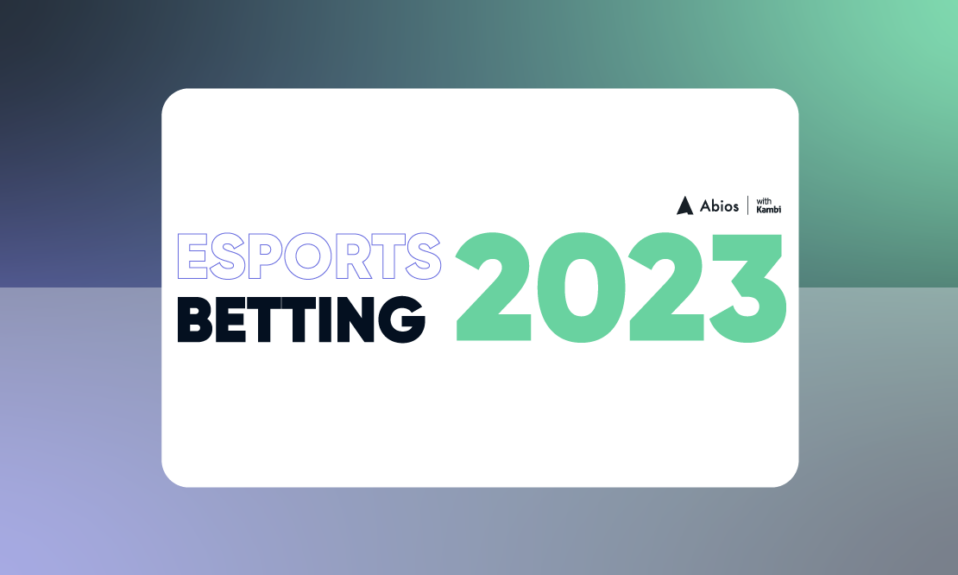 Abios has analysed betting data from the Kambi network to reveal the esports teams, titles, and leagues fans are most engaged with. With data from 2022, we can shed light on the state of the esports industry from a betting perspective and provide insights for the year to come.
Being part of the Kambi Group, Abios has looked into data from the Kambi network to distinguish the most popular esports teams, leagues, and games by betting turnover, highlighting which teams people expect to win, and the games with which bettors display the most engagement.
We hope this will give the top teams a reliable metric to measure engagement — or at the very least, give them an indication of where they stand amongst their peers.
More importantly, we want to provide sportsbooks, esports platforms, journalists, and other industry stakeholders with tangible facts about the state of the esports industry. This helps determine where the marketing budget can make the largest splash and what content fans are most likely to engage with.
The most popular esports titles in betting
We looked at the most popular esports titles by turnover, excluding esoccer (FIFA). Counter-Strike: Global Offensive (CS:GO) took the lion's share of turnover, with League of Legends (LoL), Dota 2, and VALORANT tailing close behind.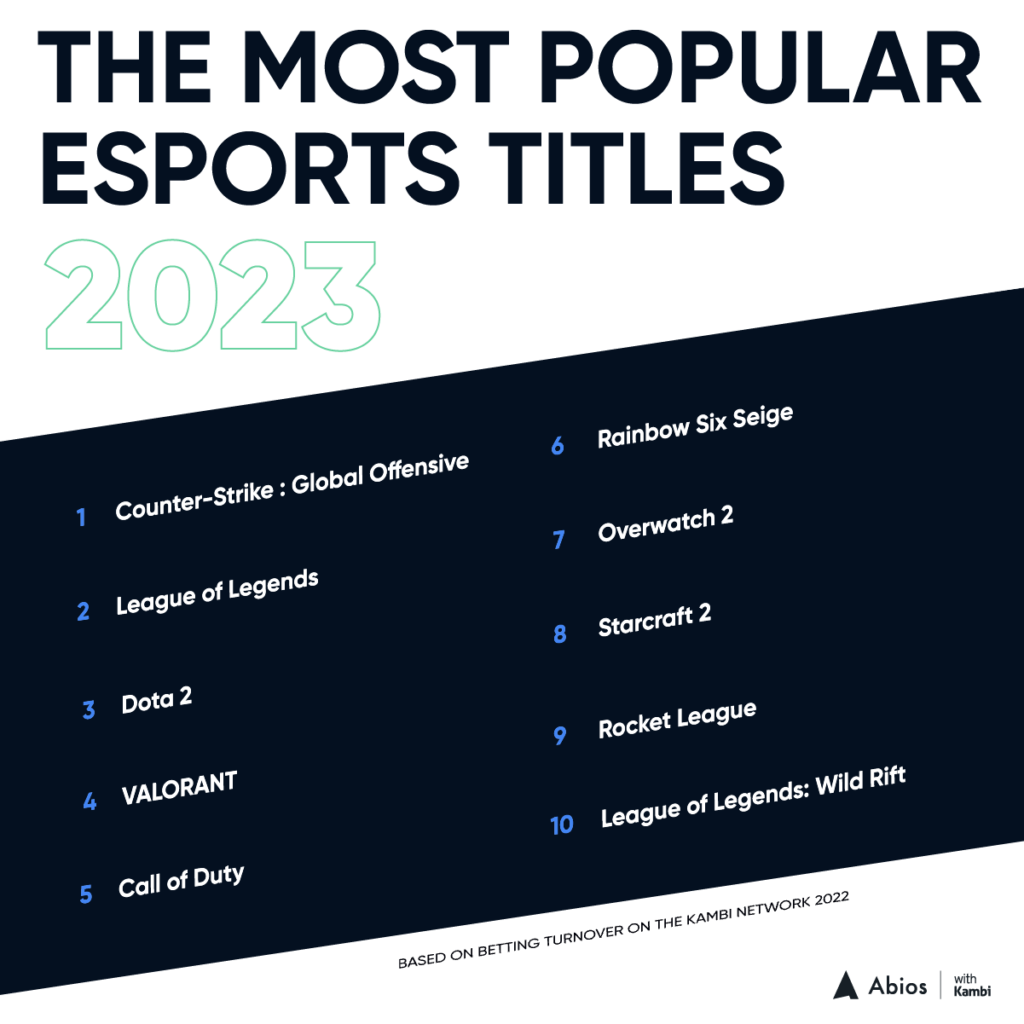 Why CS:GO dominates the esports betting space
With its fast and easy-to-understand gameplay, CS:GO has gathered fans in a broad audience and is easy to get engaged in. Other esports titles such as League of Legends and Dota 2 have far more parameters and mechanics to take into account, and as such, it can take more time before viewers are able to fully understand and enjoy every aspect of watching the game.
Additionally, CS:GO has lots of high-tier tournaments sprinkled throughout the year, giving fans several opportunities to watch the best teams and players clash. By contrast, many other esports titles tend to host their international tournaments once or twice a year, resulting in fewer moments of high-tier action to bet on.
Also of note is that there have been prohibitions in place against advertising any betting-related activities in tournaments in League of Legends in the past, which means that many sportsbooks have naturally opted for sponsorships in CS:GO and Dota 2 instead for building brand awareness among fans.
Read more about why CS:GO has succeeded so well in betting
VALORANT: Will the first-person shooter indeed shoot for the moon?
VALORANT was the fourth-most popular esports title by turnover. Since its release in 2020, the ability-based FPS has seen rising popularity among players and viewers alike, with several established esports organisations creating rosters in the colourful shooter.
The game has seen viewership numbers on par with more established titles throughout the year.
Stats from EsportsCharts.
While the game isn't in a position to overtake top titles such as CS:GO or LoL anytime soon, VALORANT is definitely on par with more established titles in viewership for its largest tournament.
CS:GO leagues top the charts
The most popular leagues by betting turnover are dominated by CS:GO and League of Legends, with IEM events and ESL Pro League snagging the top spots.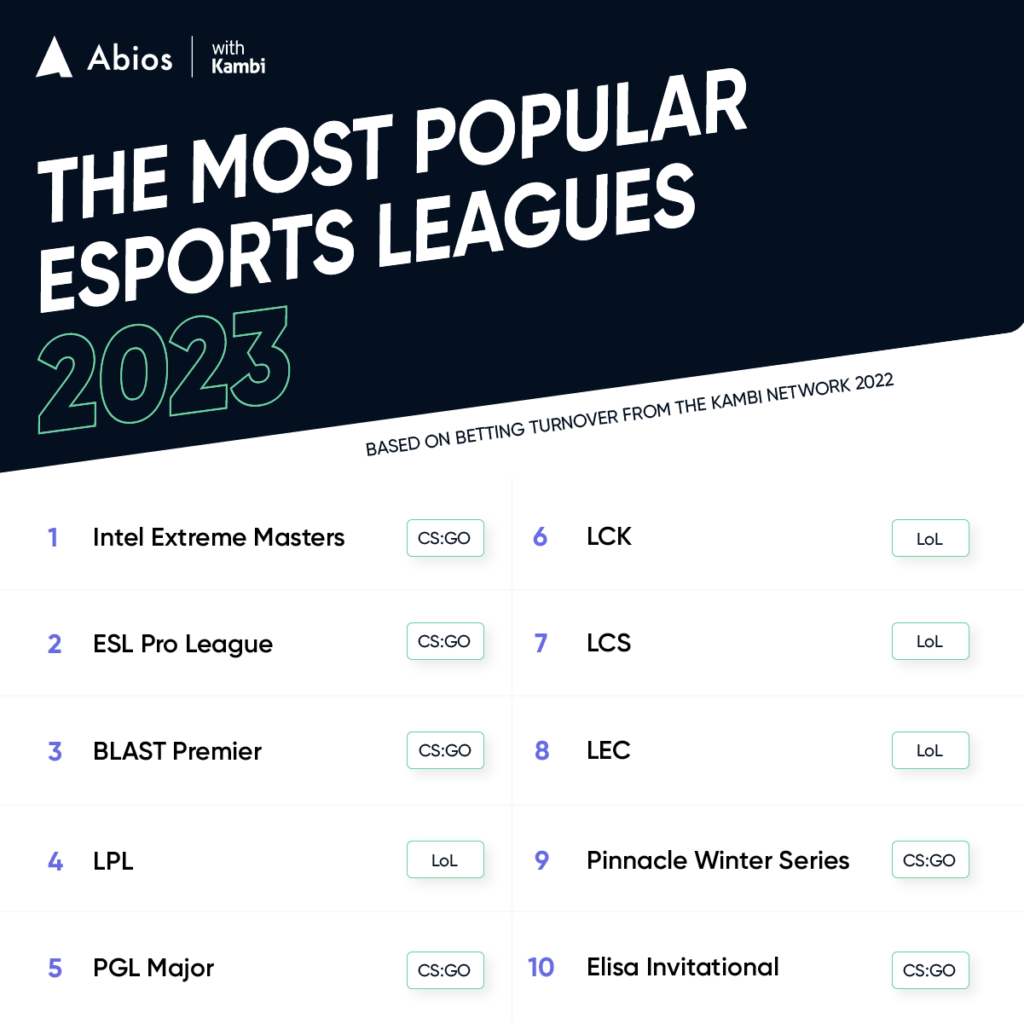 ESL brings the most engaging tournaments
ESL currently dominates the tier 1 CS:GO scene, with tournaments such as IEM Katowice, IEM Cologne, and ESL Pro League consequently bringing in high viewership numbers and betting turnover.
Intel Extreme Masters(IEM) is organised by ESL, and is in reality a couple of tournaments throughout the year with the most popular ones being in three iconic cities: Dallas, Katowice and Cologne. They provide tier-1 play throughout the year alongside ESL Pro League. Read more about the largest CS:GO tournaments in 2023 here.
The dominance of Chinese and Korean Leagues in LoL
In League of Legends, the Chinese League (LPL) seems to be the most popular League in terms of turnover, followed by LCK, LCS, and LEC. It could be expected that iconic leagues such as LCS and LEC would bring in the most engagement. Nonetheless, teams from the Chinese and Korean leagues have consistently performed better on the international stage.
Teams from LPL and LCK have won the World Championships in League of Legends for the last couple of years, which suggests a higher level of performance and play. As such, it might not come as a surprise that they warrant high engagement among fans.
Read more about the 2023 tournament circuit for League of Legends here.
The teams that set pulses racing
On the Kambi Network, the teams most fans have placed bets on are the ones with high-performing rosters in CS:GO. Natus Vincere (NAVI) and FAZE Clan top the charts, both of which have won majors in recent years and are fan favourites to win upcoming matches.
Still, the current top-tier CS:GO scene seems to be very even in terms of team performance. Going into the new year, many teams have strong rosters and performance metrics, which means that we might be looking at an upcoming year of even more exciting upsets and unexpected cinderella-stories.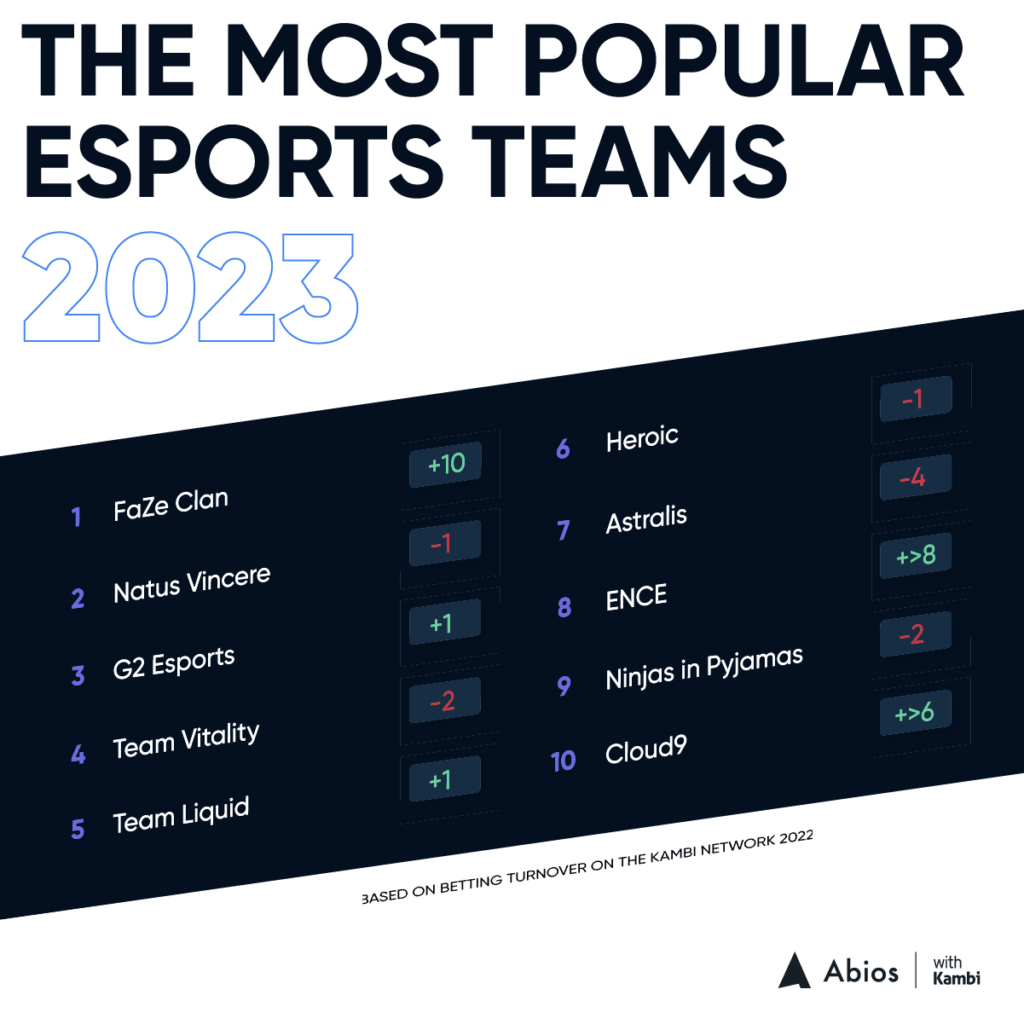 #1 Faze Clan
FaZe Clan, an American esports organisation, has seen a lot of limelight throughout the year. Their incredible performance in CS:GO and their SPAC merger allowed them to become a publicly traded company. The organisation is now partly owned by rapper Kiari "Offset" Kendrell Cephus and has Snoop Dogg on its board of directors.
Their CS:GO roster has made large waves, going on a winning streak and coming in at 1st place in some of the most prestigious tournaments in CS:GO. During the year, they've won PGL Major Antwerp, IEM Katowice, ESL Pro Season 15, and IEM Cologne.
While they lagged behind during the Major in Rio, they picked up the crown as the kings of CS:GO with a 1st placement at the BLAST Premier World Leaderboard, which solidified their incredible performance during the year. They are widely considered one of the best teams in the world and definitely one to look out for in 2023. 
#2 Natus Vincere
Natus Vincere (NAVI) went into the 2022 tournament circuit with several recent tier-1 wins. PGL Major Stockholm and BLAST Premier World Finals to mention a few. As a result, 2022 seemed to be NAVI's year.
However, the year was off to a rough start for the team with turmoil in their home country, Ukraine. The team had a roster change, as well as difficulties practising ahead of competitions. Despite all the obstacles, they have continued to display incredible performance and took second place at the BLAST Premier World Leaderboard. 
With their talented roster led by s1mple, they've continued to be a fan favourite to win and we're looking forward to seeing what action they can bring for the upcoming year.
#3 G2 Esports
Based in Germany, G2 Esports has top-performing rosters in several esports titles, most notably in CS:GO, League of Legends, and VALORANT.
In CS:GO, the roster is led by in-game leader Danish Rasmus "HooXi" Nielsen, who was recently transferred from Copenhagen Flames. G2 Esports' most notable performances during the year include coming in second place in IEM Katowice and winning the BLAST World Finals. Moreover, G2 Esports currently holds the fifth spot in the BLAST Premier World Leaderboard.
What makes a team popular among bettors?
The most watched match during a tournament is usually the final, whether it be in a CS:GO Major or in the League of Legends World Championships. With a lot of viewers, there's a larger chance there are people placing a bet at this stage. For this reason, teams that repeatedly find themselves in the semifinals or finals tend to be the ones that are most popular to bet on – they have appeared in the matches that most people are watching. Not to mention that teams who make it far in a tournament appear in more matches, which means that there are more opportunities to place a bet on the team.
There are, of course, other aspects making a team popular to bet on as well, such as the scale of the fan base, individual player performance, and game-specific variables.
Read more about what makes an esports team popular here.
The importance of having a solid live offering in esports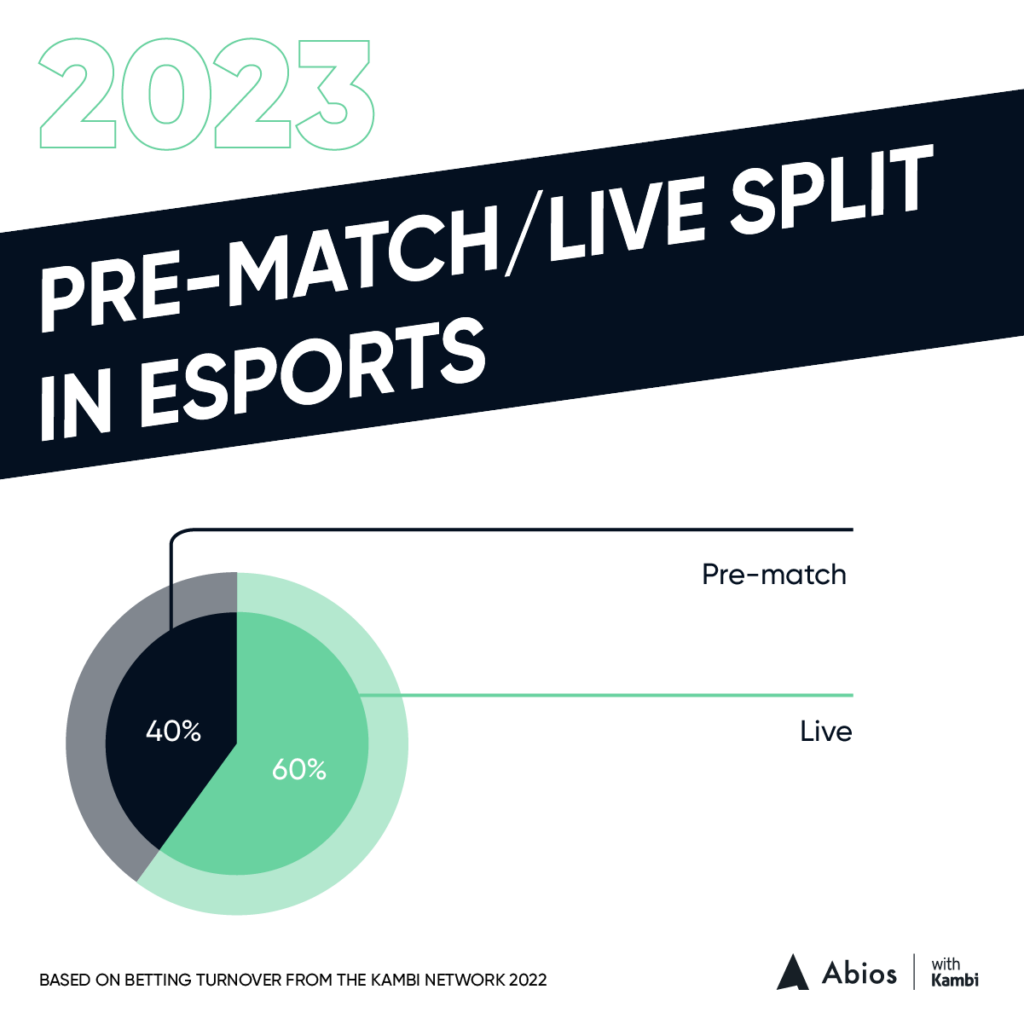 The live/pre-match split still lingers on a 60/40 distribution, which continues to prove our assumption that bettors generally prefer to bet on ongoing games rather than pre-match offerings.
We believe a robust live offering with high uptime to be a winning recipe for esports betting going forward. Esports games, such as CS:GO, are characterised by their fast gameplay. As such, it creates an ideal environment for fast bet offers for players wanting to place a bet on a round-by-round basis, rather than for main lines such as match winner.
The esports betting market is still very much revolving around CS:GO, with other large titles following close behind.
We're looking forward to what 2023 will bring and believe that the esports betting market will continue to grow as new products emerge on the playing field.
About Abios
Being part of the Kambi Group and with 10 years in the esports industry, Abios provides industry-leading esports data and technology for customers all over the globe. We provide data, odds, and widgets for the most popular esports titles including CS:GO, League of Legends, VALORANT, and Dota 2.
Do you want to learn more about our data-driven esports products? Read more here