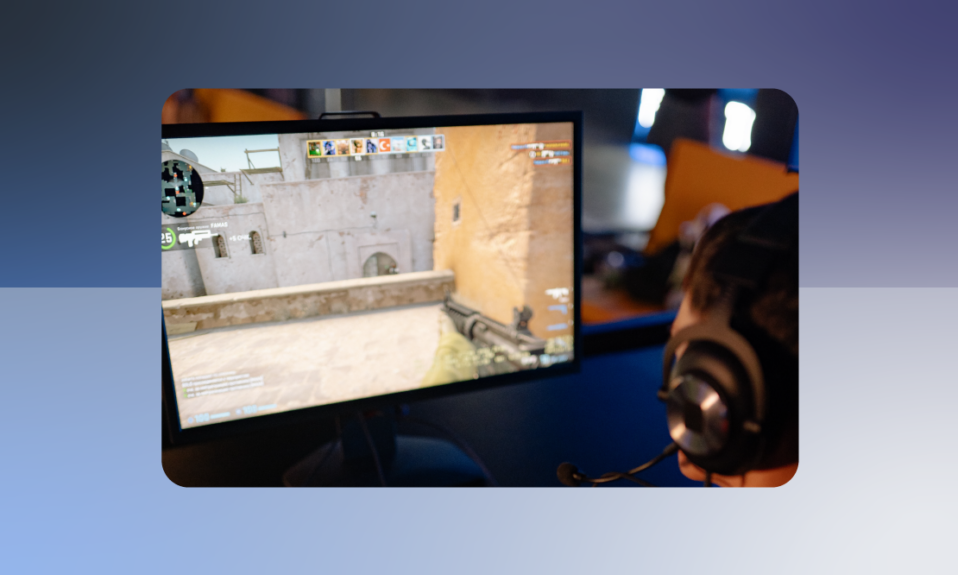 Counter-Strike: Global Offensive has been around for over a decade now. The esports scene has been around even longer, with FPS pros competing in the earlier enactments of the game, Counter-Strike 1.6 and Source. With so much history and prestige, it's no wonder that there's a very organised structure to CSGO events in 2023.
CSGO has different tiers of tournaments, each varying in prize pools, structure, format and teams participating. Essentially, S-tier (Liquipedia rating), or tier 1 tournaments in Abios' books, will have all of the top teams from around the world competing. They carry the most weight in the competitive scene, resulting in the highest viewership and largest prize pools.
For companies looking to build products around the esports ecosystem or sponsor teams, Abios has listed the most popular tournaments in CS:GO for 2023.
While some of the largest tournaments for 2023 haven't been announced yet, here are the ones we know of so far: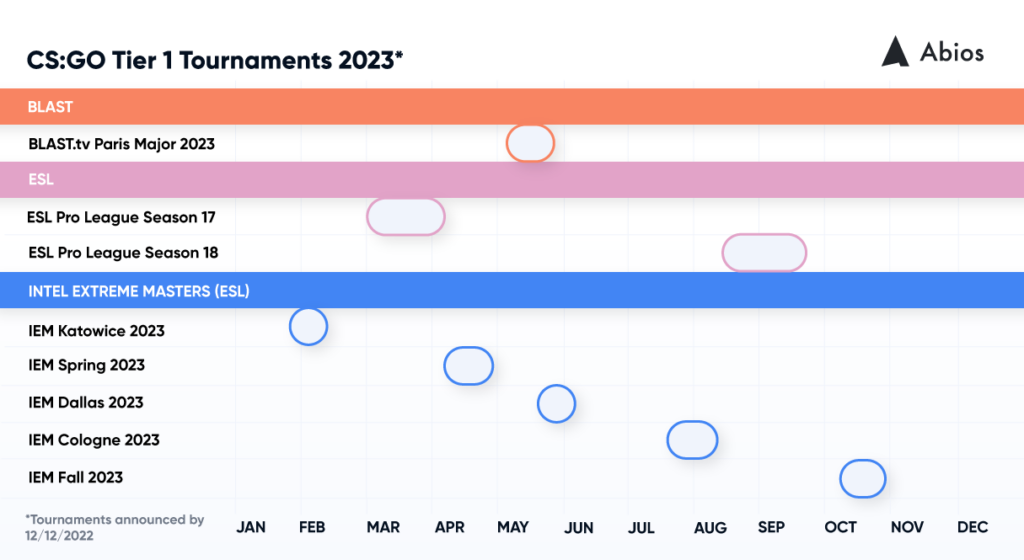 IEM Katowice 2023
Date:
Play-In: January 31 – February 1
Group Stage: February 2 – 5
Playoffs: February 10 – 12
Prize Pool: $1 million
Teams to Watch:
FaZe Clan
Team Vitality
Outsiders
Fnatic
This legendary event in Poland has an incredible prize pool and all of the top teams looking to prove themselves at the start of the season. Last year, the IEM Katowice finals against FaZe Clan and G2 Esports had a peak of 1.1 million concurrent viewers.
Read about how Ancient is performing in CS:GO
IEM Spring 2023
Date: April 17 – 23
Prize Pool: $ 250,000
Teams to Watch:
ESL Pro League Season 17
Date: March 1 – April 2
Prize Pool: $835,000
Teams to Watch:
Astralis
BIG
Complexity Gaming
Fnatic
MOUZ
Heroic
Natus Vincere
Ninjas in Pyjamas
This month-long event has 24 of the best CSGO teams in the world coming together to prove themselves mid-season. Fifteen of the participating teams are permanent partners. They will initially be divided into four groups, with the top three from each group heading to the playoffs. The prize money is definitely a draw, but teams also want a chance at the additional BLAST Premier Circuit Points given to the top eight teams.
BLAST.tv Paris Major 2023
Date: May 8 – 21
Prize Pool: $1.25 million
Teams to Watch:
This S-tier tournament is taking 24 top teams to Paris for some intense action. With such an immense amount of money on the line, it's sure to be about two weeks of incredible CSGO matches. Unfortunately, not much is known about the Major yet, including the teams and structure.
Read more about how CS:GO compares to VALORANT
IEM Dallas 2023
Date: May 29 – June 4
Prize Pool: $250,000
Teams to Watch:
IEM Dallas 2022 had 400K peak viewers during the grand finals. Taking place at DreamHack, this vibrant tournament features 16 teams duking it out between other colorful and chaotic video game-related activities.
Blast Premier Spring Final 2023
Date: June 7 – 11
Prize Pool: $425,000
Teams to Watch:
It's time to take the action to Washington D.C., where eight of the top teams will come together to compete in the nation's capital for a big prize pool and a qualification to the World Final of the Blast Premier series.
Blast Premier Fall Groups 2023
Date: July 13 – 23
Prize Pool: $177,498
Teams to Watch:
Astralis
G2 Esports
Team Vitality
Natus Vincere
Team Liquid
There are 12 teams from all over the world competing in this tournament, with the top six teams qualifying for the Fall Finals. Get ready to watch the top squads from every region fighting for a chance to advance.
IEM Cologne 2023
Date: July 27 – August 6
Prize Pool: $1 million
Teams to Watch:
IEM Cologne 2023 is one of the biggest CSGO esports events in Europe, nicknamed "The Cathedral of Counter-Strike." There will be 24 teams fighting for the incredible prize pool and to be crowned the EPT Champion. This coveted and respected event will bring out some of the best moments in CSGO.
ESL Pro League Season 18
Date: August 15 – September 24
Prize Pool: $835,000
Teams to Watch:
Astralis
BIG
ENCE
FaZe Clan
G2 Esports
FURIA Esports
Natus Vincere
Ninjas in Pyjamas
Team Vitality
This S-tier tourney will wrap up the 2023 seasons for ESL with some incredible, top-tier action. There are 15 permanent partner teams you can always expect to see there. But there are also slots for top teams that placed highest on the ESL world ranking. The teams will be split into four groups initially, duking it out to qualify for IEM Katowice 2024.
IEM Fall 2023
Date: Oct 16 – 22
Prize Pools: $ 250,000
Teams to Watch:
Apart from the competitions mentioned, we expect to see more BLAST Premier events and a second fall-Major. There will also be other tournaments at various levels of play such as the Elisa Invitational that are worth keeping an eye on.
Blast Premier Fall Final 2023
Date: Nov 22 – 26
Prize Pools: $425,000
Teams to Watch:
The six teams from the Blast Premier Fall Groups will qualify for the Fall Final. Not only is there a bigger prize pool, but there's a shot at the World Final. Expect a lot of incredible action as teams fight for a spot at this coveted event.
Blast Premier World Final 2023
Date: Dec 12 – 17
Prize Pool: $1 million
Teams to Watch:
The best CS:GO teams in the world will finally meet after the Summer and Fall Finals earlier this year. The qualifying teams will be the top teams from every region, making this one of the most exciting events of the year. There's $1 million on the line, which is sure to have teams fighting tooth and nail at this S-tier tournament. The location is still a mystery, but be on the lookout for more information as the event draws near.
With close to 10 years of experience in the esports industry, Abios is providing data from top-tier tournaments in CS:GO, League of Legends and Dota 2 to customers all over the globe. Make sure to reach out if you need schedules, results or head-to-head stats for your next esports project.