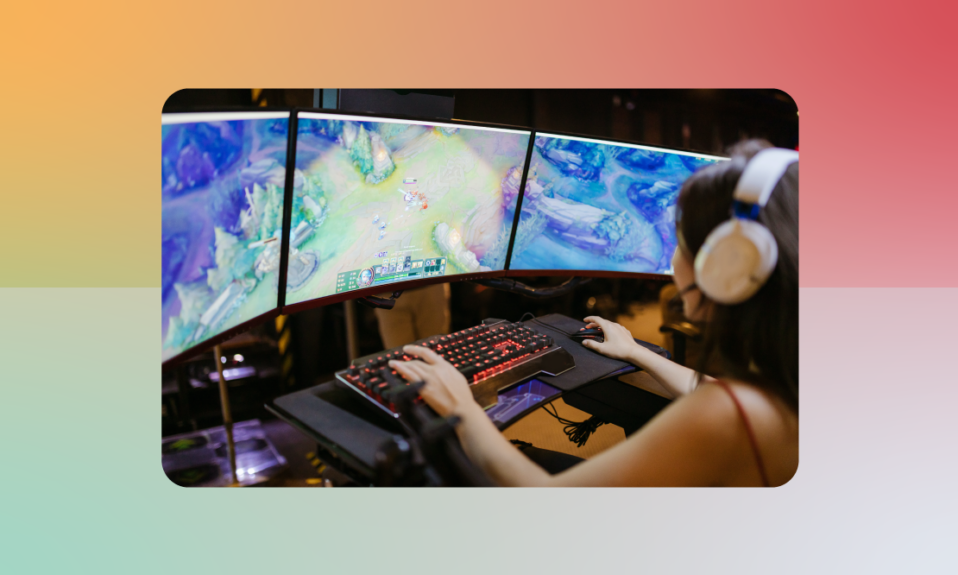 For companies venturing into the esports space, League of Legends can seem overwhelming with international tournaments in different leagues all over the globe.
Abios has put together a guide for the 2023 League of Legends tournament circuit to shed light on the most enticing events of the year.
League of Legends (LoL) is an esports title developed by Riot Games. Since its release in 2009, it has brought together fans all over the world with its edge-of-the-seat action that includes Baron steals, insane ganks and unlikely clutches.
Being the largest esports title by player base, LoL sees incredible viewership numbers year after year, with the 2022 League of Legends World Championship setting a new viewership record, hitting 5.1 million in peak viewership.
The League of Legends tournament circuit is split into 10 different regions, which fight in Spring and Summer Splits. In between the splits, there's commonly a Mid-Season Invitational (MSI) where the best teams in each region show off their skills on an international stage.
Once the Summer Split starts after the ending of the MSI, the action ramps up, as the Summer Split Playoffs determine which teams get to fight it out on the world stage in the World Championships. It is the largest event in the League of Legends calendar and the one companies looking to provide League of Legends coverage should hone in on.
The League of Legends World Championships or "Worlds", as it is commonly called, typically ends the year's competitive season and moves players and teams into pre-season, where they can change rosters and train for the next season.
The structure for some regions is shaking up in 2023, while others follow the same structures as previous years. Here are the most important tournaments for League of Legends next year.
Related: The differences between League of Legends and MOBA-rival Dota 2
Changes to the upcoming League of Legends season
With the season of 2023, Riot Games has listened to the community, enacting several changes to the tournament structures and regions.
Europe, Africa and Middle-East becomes EMEA
What was previously 12 regions in the yearly tournament circuit, has now become 10. The Europe, Turkey, MENA and CIS regions have been consolidated into one, the EMEA league. In addition to the Spring and Summer Splits of previous seasons, the League will now also feature a Winter Split in January and February.
Upcoming format changes for MSI and Worlds 2023
Fans and casters alike have screamed for format changes in MSI and Worlds for years, more specifically for more Bo3 and Bo5 match-ups between teams. It seems like Riot Games is finally listening in. While the Knockout Stage won't receive any changes, Rumble, Play-ins and Group stages might see a format update.
Spring Split 2023
While most of our assumptions on the upcoming tournament circuit are based on past seasons, we will keep this post updated as new changes occur. For the latest information on LoL esports, visit their website here.
There are currently 10 regions in Riot's League of Legends circuit. They are:
League of Legends Champions Korea (LCK) – South Korea
League Champions Series (LCS) – North America
League of Legends European Championship (LEC) – EMEA
League of Legends Pro League (LPL) – China
Pacific Championship Series (PCS) – SEA
Vietnam Championship Series (VCS) – Vietnam
Campeonato Brasileiro de League of Legends (CBLOL) – Brazil
League of Legends Circuit Oceania (LCO) – Oceania
League of Legends Japan League (LJL) – Japan
Liga Latinoamerica (LLA) – Latin America
There are around 10 teams in each region that will compete in their league's Spring Split. This tournament series starts with a kickoff tournament, which has a group stage and then a single elimination bracket. The teams that come out on top of each region will compete in the Mid-Season Invitational, or MSI.
Every region has their own start dates but the majority will begin in January, 2023. Not all regions have specified an exact date, but the LCK is expected to start January 11 and CBLOL on January 19.
Regions to Watch in 2023
The top four regions to watch are: LCS, LCK, LEC, and LPL. These are the regions that have consistently dominated at Worlds, although LCS would be the underdog of these four.
In recent years, the World Championships have been dominated by the Chinese and Korean Leagues, LPL and LCK. Winners from the regions include:
2022: DRX (LCK)
2021: Edward Gaming (LPL)
2020: Damwon Gaming (LCK)
2019: FunPlus Phoenix (LPL)
2018: Invictus Gaming (LPL)
2017: Samsung Galaxy (LCK)
2016: SK Telecom 1 (LCK)
MSI Format 2023
MSI takes place after the Spring Split, with the 12 best teams from all over the world coming together to show what they got on an international stage. MSI is meant to be a showcase, of sorts, with each region showing their skills ahead of Worlds.
The date, location, format and prize money has not been announced yet, but MSI was in May this year. The prize money is a minimum of $250,000 and $75,000 went to the winners (RNG) in 2022.
Here is the format for MSI based on last year:
Stage 1 (Groups)
Teams are drawn into three groups based on seeding
Group A: Quadruple round robin, Groups B and C: Double round robin
Matches are best of one
Top two teams from each group advance to Stage 2
Stage 2 (Rumble)
Six teams compete in double round robin
Matches are best of one
Top four teams advance to Stage 3
Stage 3 (Knockout)
Single elimination style bracket
Matches are best of five
Summer Split 2023
The same 12 regions will then compete in the Summer Split. This season is often seen as a bit more impactful than the Spring Split since the top teams will compete at Worlds, which is where the champion will be crowned. For this reason, a lot of teams will make roster and strategy changes going into the Summer Split based on the team's performance in the Spring Split.
The format for Summer Split is the same as Spring Split, meaning the top teams from each region will qualify for Worlds.
Throughout the entire year, teams will also earn Championship Points based on their performance. These points help determine which teams from each region are going to Worlds.
World Championships 2023
Worlds is the conclusion of the 2023 season. All of the best teams in the world will come together to find out who the best team of 2023 ultimately is.
It's too early right now to know when or where Worlds will take place. The prize pool is also unknown, although it's been over $2.2 million in the past. Fans should expect the same or more for 2023.
Worlds has three stages:
Each stage often takes place at a different arena, sometimes in a different city or country altogether.
Play-In has three pools, each containing four teams. The pools are all random. Same with Groups. Knockout has eight teams. The bracket is also randomly determined. The team that comes out victorious will be crowned the champion.
How data from League of Legends can bolster your esports offering
For companies looking to cover League of Legends, whether it be by writing articles about important tournaments or offering odds on the competitions, it's important to keep track of the best teams in top regions, as well as the development of different tournaments and leagues.
With close to 10 years in the esports industry, Abios provides esports data and technology for companies looking to venture into League of Legends and other esports titles.
Learn how data-driven product offerings can help you succeed in esports here.