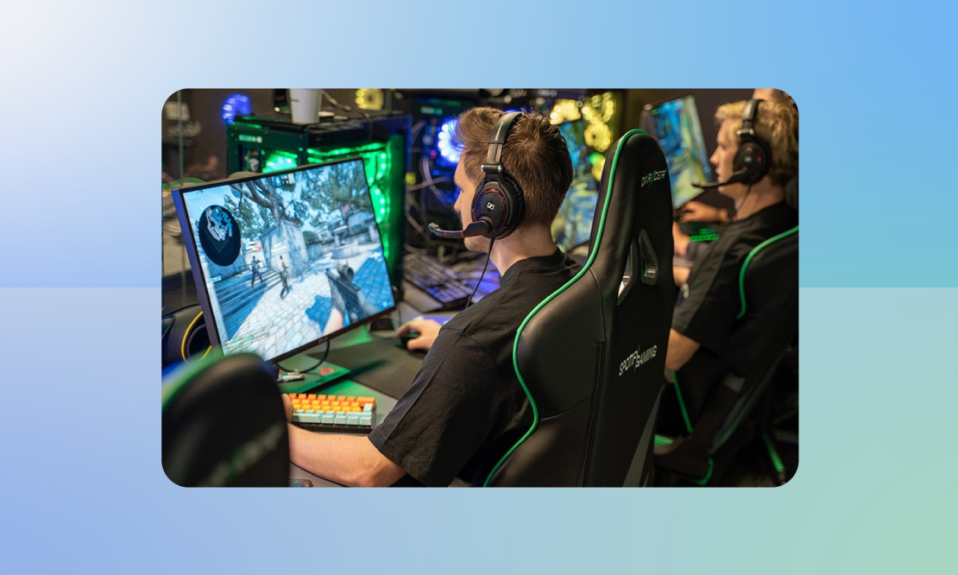 Newzoo just launched its 2023 Global Games Market Report, jammed with insights on the cloud gaming market, mobile, consoles and streaming. While it does paint a picture of the gaming industry, it doesn't delve on esports.
Kristina Skogvard, Abios' Marketing Manager, analyses Newzoo's 2023 Global Games Market Report from an esports perspective.
Gaming, streaming and esports
Every so often, analytics companies and service providers publish new reports on the growth and direction of the esports and gaming industries. Providers such as Newzoo, Stream Hatchet and Esports Charts have their ear to the ground and provide industry-leading insights on gaming, streaming and esports, respectively.
Nevertheless, it's important to keep the three apart. 
Gaming is a $ 187.7 bn market (Newzoo, 2023), containing various categories of video games from various publishers across PC, mobile and console.
Streaming is a $ 12 bn market (Statista, 2023), largely consisting of games live streaming monetised by influencer marketing on platforms like Twitter and Youtube.
Esports is a $ $1.39 bn market (Yahoo Finance, 2022) that consists of tournament circuits in a handful of competitive game titles, monetised by franchise leagues, sponsorships, branding opportunities and more.
The difference between market data in gaming and esports
Gaming is a broad umbrella term that encompasses lots of different titles and genres, from the broadest definition including mobile titles such as 'Candy Crush', to console-adventures a la Last of Us or esports titles such as Counter-Strike: Global Offensive or League of Legends. While all are equal parts 'gaming', the former has little traditional spectator-sport value. 
Moreover, depending on the type of game, audiences and demographics can differ vastly.
Gaming can encompass Karen, 54 playing Candy Crush on her mobile phone, and Sebastian, 24 playing Counter-Strike: Global Offensive and watching LoL Spring Splits every other night on his gaming rig.
To lump these very different consumer groups can serve in sizing up an opportunity or TAM (Total Adressable Market) for a video game, but isn't always informative for brands looking to make business decisions for esports. That's why it's so important to keep gaming, streaming and esports apart.
Why some games have esports and what their fans are like
To use a sports analogy, gaming can be like playing soccer with friends, while esports is like watching the premier league.
In difference to sports, not all games have the competitive elements that form the backbone of competitive esports titles we see today.
RELATED: What makes a game a successful esports title?
The games that are generally recognised as esports titles have a few elements in common: they are easy to learn but difficult to master, have fast-paced action making them entertaining to watch and have a strong player base fuelling the profesisonal player pool.  
Esports fans and enthusiasts are often, but not always, more similar to the traditional stereotypes of 'gamers' than your average Candy Crush player. They play console or PC-based games with their friends while watching matches of their favourite esports games, placing a bet and chatting with their friends on Discord or engaging in a watch party with their favourite streamer.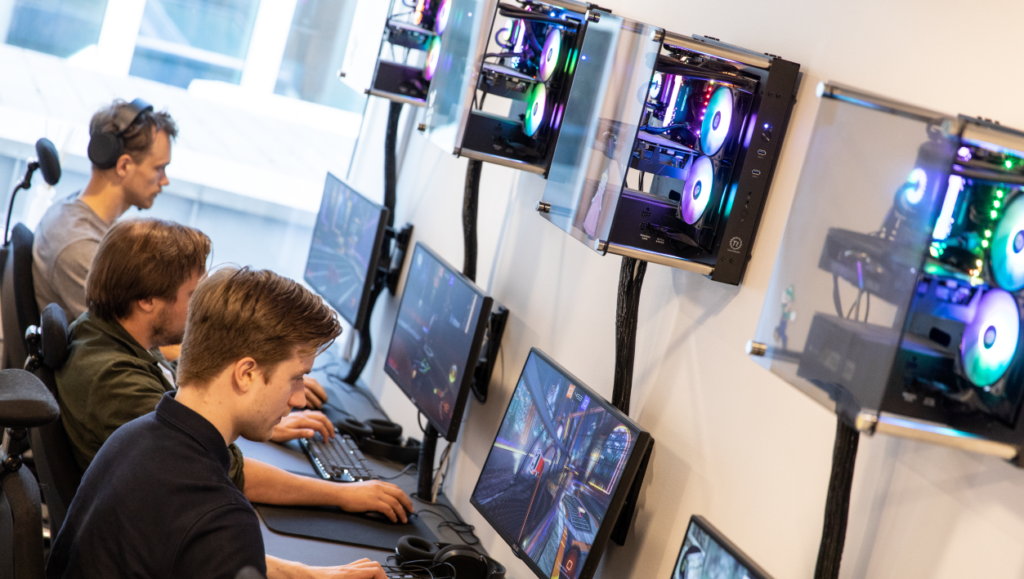 RELATED: Esports vs sports fan behaviour
What does the general gaming market say about the state of esports?
Newzoo recently released a comprehensive report on the Global Gaming Market with specific insights on the cloud, mobile and console markets along with plenty of actionable insights for companies looking to understand the broader gaming industry.
While it doesn't include a more comprehensive section on esports anymore, the general direction of the gaming industry can give us a clue about the health and direction of esports in general.
Mobile gaming – mobile esports?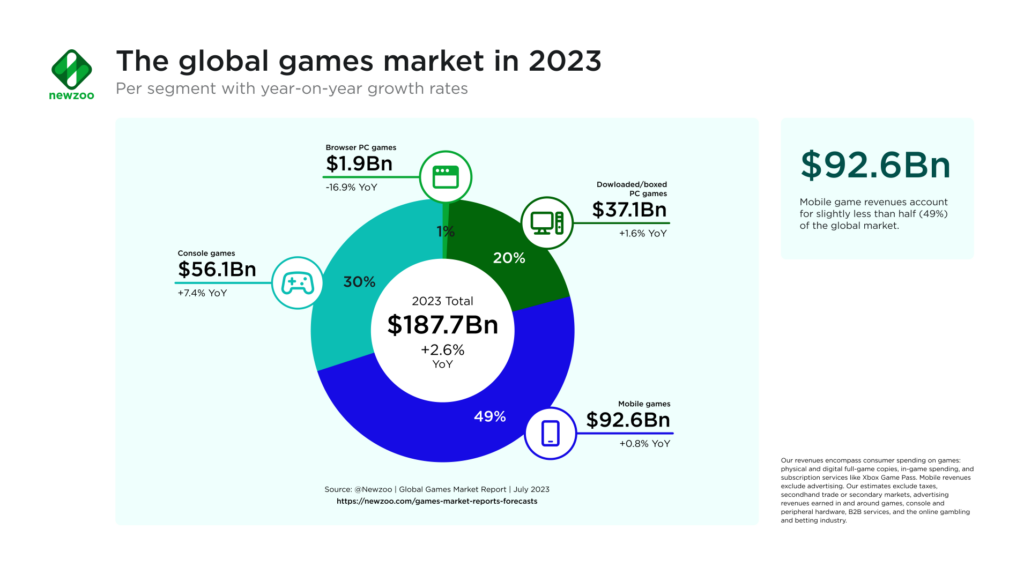 The mobile gaming segment sees strong revenue and accounts for almost half of the combined global gaming market in 2023. The same trend can be seen in esports, as mobile titles such as Mobile Legends: Bang Bang, PUBG Mobile, and Honour of Kings see strong viewership and prize pools each year. 
The accessibility of mobile devices fuels the trend. Everyone has a mobile phone, while fewer can afford a high-end gaming rig or a new PlayStation 5. 
As such, mobile gaming democratises competitive gaming with prominent teams, players and tournament ecosystems developing in South America and Southeast Asia. In Europe and US, PC and console-based esports titles seem to continue to reign supreme for the time being.
RELATED: Esports trends to watch out for 2023
The regional split of gaming revenue from an esports perspective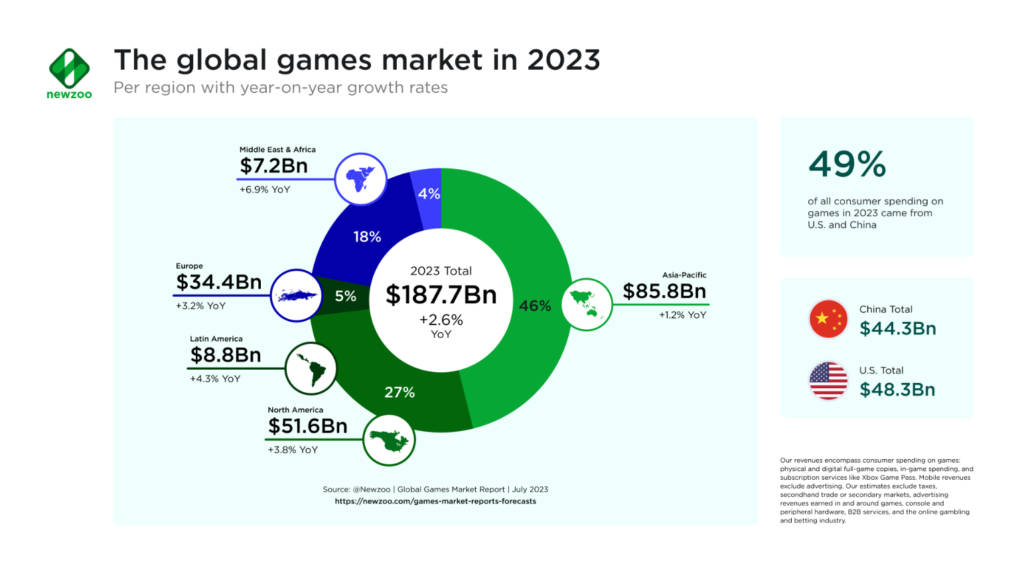 Europe, Asia-Pacific and North America see comparatively low growth in terms of gaming revenue. China and the United States stand for a significant portion of the total revenue but are also the two largest economies in the world and fairly mature regions in gaming. As such, their positions on the chart aren't all too surprising.
One notable development in China is, of course, the limit on underage gaming imposed by the Chinese Government in 2022. It limits the number of hours each child and teen can spend in front of a computer.
While it is hard to say the definitive impact on esports viewership given the limited data available from streaming services such as Douyu and Huya, the time limit on gaming could impact the Chinese competitive player pool in esports in the future.
The developments that directly parallel esports are the growth figures for Latin America, and Middle East & Africa. Several prominent esports tournaments in CS:GO have been played in Brazil recently, most notably IEM Rio Major 2022 and IEM Rio 2023.
In the Middle East & Africa, few in the industry have likely missed how Saudi Arabia has embraced esports with open arms. ESL, FaceIT and Dreamhack were acquired by Savvy Gaming Group in 2022, not to mention the Gamers8 festival hosted in Riyadh, Saudi Arabia. In 2023, it featured games, esports tournaments and live music, with a whopping combined prize pool of $ 45 million shared across seven esports titles, including Dota 2, Rocket League and CS:GO.
Player growth forecast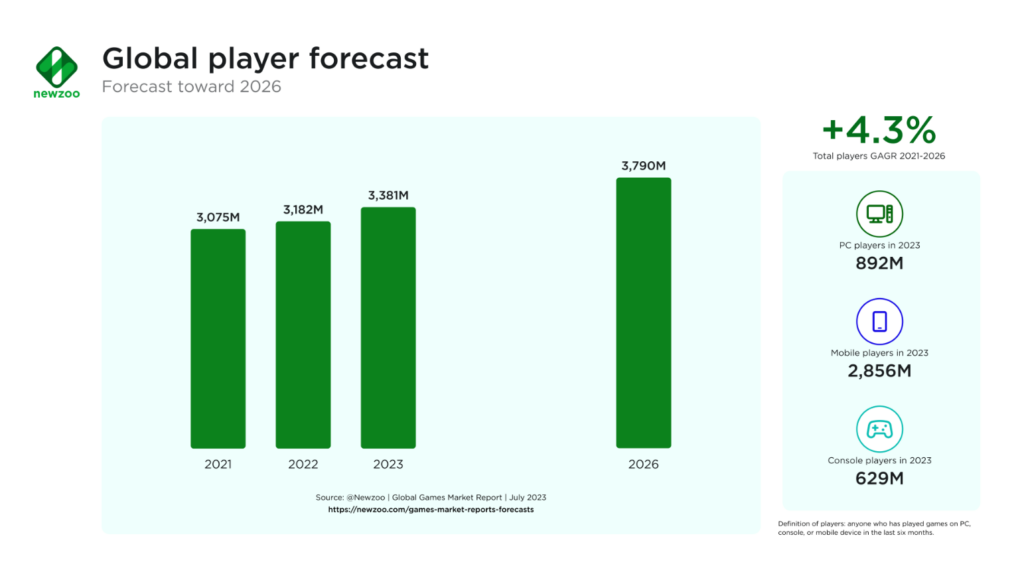 In the Global Games Market report, the definition of players is in the broadest sense, as it encompasses 'anyone who has played games on PC, console, or mobile device in the last six months'. As such, it is hard to draw any direct conclusions from an esports perspective.
The split between mobile, PC and console paints an interesting picture, but it could have been interesting to see a breakdown of mobile, PC and console in specific geographical areas as well.
Do you want to start an esports project and want to learn more about the industry?
With more than 10 years of experience in esports, Abios supplies organisations of all scales with esports data and technology.
Abios' product portfolio consists of data, odds and widgets for tournaments in the largest esports titles, including CS:GO, League of Legends, Dota 2 and VALORANT, allowing sportsbooks, search engines, teams and platforms to power their esports projects and find new ways to reach the esports audience.
Do you want to learn more about our esports data solutions?