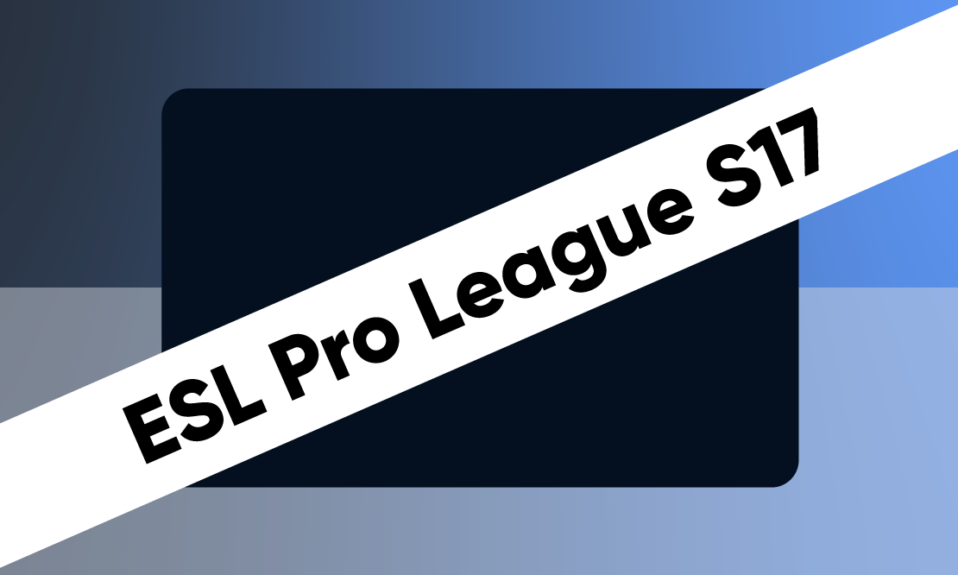 ESL Pro League Season 17 was a big moment in Counter-Strike: Global Offensive, with the biggest teams in the world showcasing their incredible strategies and high IQ decisions. Over 518,000 people watched FaZe Clan dominate in the Grand Finals, but we were watching even closer, tracking data and trends to show you just what's happening in the current meta of the highest level of CS:GO.
Here's what we found to better guide you going into the next CS:GO majors in 2023.
Top CS:GO players in the world
When it comes to ranking the top players in the world, sites like HLTV look into pro players' outcomes and performances throughout the season spanning multiple tournament series. But if we want to look at the best players at this very moment, let's look at who performed best at the ESL Pro League Season 17.
You probably won't be surprised to see that Mathieu "ZywOo" Herbaut is at the top when we look at our stats. ZywOo, from Team Vitality, played in nine matches throughout the major, getting an average of 24.6 kills per match. Out of those kills, 11.9, on average, were headshots. ZywOo is unstoppable right now.
We recently compared ZywOo to the other top player in the world, Oleksandr "s1mple" Kostyliev. How did he perform at ESL Pro League Season 17? s1mple roughly competed in double the matches ZywOo was in. That's because NAVI had to go through the mid bracket to finish 3rd, while Team Vitality sailed through the upper bracket to an 8th spot.
This gave him a bit more variables, of course. But s1mple still went off, getting an average of 20.7 kills per match, with 7.9 of them being a headshot.
However, the MVP of the event was Robin "ropz" Kool from FaZe Clan. This was his seventh major and first major win. All of his stats were well above the average, with fans of pro CS:GO commenting that ropz is finally with a team where he can show his incredible skills and game knowledge.
ropz had .77 kills per round and an average of 20 kills per match. A little over half of those kills were headshots, which is a better headshot average than s1mple and ZywOo. You'll want to add ropz to your next fantasy CS:GO team.
Best weapons in CS:GO
So what weapons were these top players using in ESL Pro League Season 17? You won't be surprised, but the AK47 takes the top spot. The AK does 35 damage and has an incredible fire rate of 600 RPM, making it the undisputed best weapon in the game. This gun dealt 1,946,358 damage throughout the tournament, including 18,721 kills — 10,141 being headshots.
The next-best weapon in this tournament was the M4A1-S, which dealt 779,499 damage. Players got 7,409 kills with this weapon, with 2,811 being headshots. While it may not have dealt as much damage as the AK47, this weapon had a lot more accuracy.
The AWP was the third-best weapon in ESL Pro League Season 17. This weapon was responsible for 570,532 damage and 6,273 kills. It got 576 headshots thanks to its impressive accuracy.
The most balanced CS:GO maps
As we've previously analysed, CS:GO is known for its balanced maps. Terrorists and Counter-Terrorists have a pretty even chance of winning, meaning it's all about the team's skills and strategies. That's what makes CS:GO so intense and exciting to watch.
But during ESL Pro League Season 17, we found out that Terrorists have a little bit of an advantage based on how the matches went. Terrorists had a very small win rate advantage on Inferno, Vertigo, and Ancient.
The most shocking, however, was Anubis. Terrorists won 431 times of the 739 times the map showed up, with Counter-Terrorists winning just 308. That means Terrorists won 58.32% of the time, a really huge win rate over Counter-Terrorists. While Anubis is still balanced overall, this will definitely have people leaning towards T-side when making bets.
This is probably why Anubis was the least-picked map in the pool. The most-picked map was Inferno, followed by Nuke, and then Overpass.
Looking for more insight into CSGO and other popular esports scenes in 2023?
Abios provides esports data and technology to customers worldwide looking to power their esports projects. Abios has nearly 10 years of experience in the scene and has over 50 bn data points covering head-to-head stats, historical data and live scores. Learn more here.