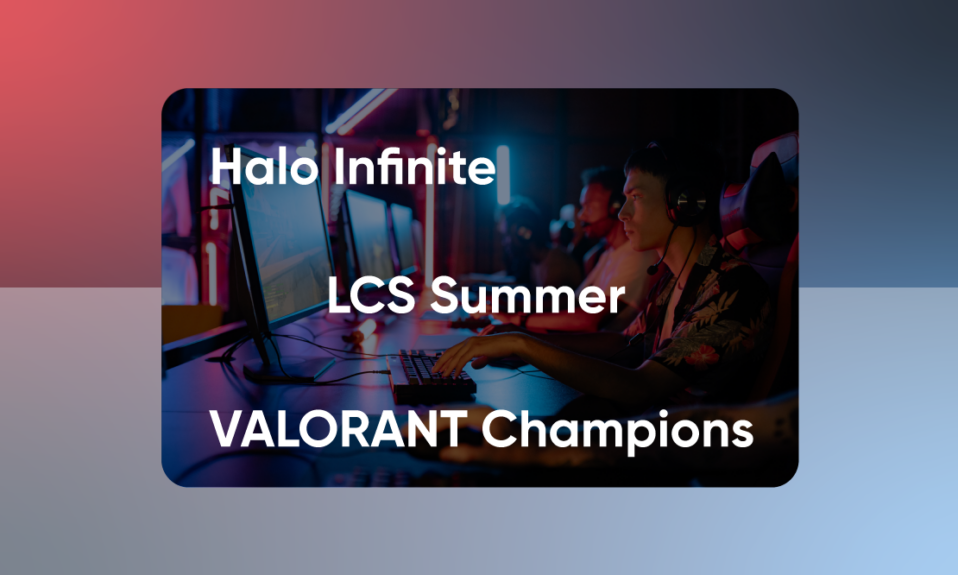 September is often seen as a transitional month that's leaving behind summer's humidity and welcoming the harvest. While September is full of changes, there is one constant: incredible esports action.
If you're looking for entertainment in September, you're in the right place. There is a wide variety of esports tournaments coming up, prime time for showcasing your esports product and getting in on the action.
2022 League Championship Series Summer
Game: League of Legends
Prize Pool: $200K
Date: June 17 – September 11
Teams:
100 Thieves
Cloud9
CLG
Dignitas
Evil Geniuses
FlyQuest
Golden Guardians
Immortals
Team Liquid
TSM
The best League of Legends teams in North America are continuing to duke it out for a spot in the World Championships 2022. With colourful commentary, nonstop action, and entertaining rivalries, the LCS is a popular series to tune in for. These are well-studied and often-covered teams with unique storylines and strengths so you can easily follow the action and pick a team to bet on.
Right now, Evil Geniuses are at the top of the ranks with 15 wins and 3 losses. 100 Thieves are in second with a 14-4 record. Team Liquid is still fighting with a 12-6 record. Everything can still change, so tune in for the exciting last few weeks of this intense battle for domination of North America.
VALORANT Champions 2022
Game: VALORANT
Prize Pool: $1,000,000
Date: August 31 – September 18
Teams:
OpTic Gaming
XSET
FunPlus Phoenix
Fnatic
LOUD
Leviatan
DRX
ZETA DIVISION
Paper Rex
XERXIA
100 Thieves
Team Liquid
KRU Gaming
FURIA Esports
EDward Gaming
BOOM Esports
This event in Instanbul, Turkey is the end of the 2022 VALORANT Champions Tour. The 16-best teams in VALORANT from all over the world have come together to fight for the title of champion — and the incredible prize pool.
The VCT's organized structure makes it quite easy to follow the action as well as understand each team's storyline and ranking. The top teams are clear, making it easier to showcase the favourites and to create interesting content around them.
OpTic Gaming is one of the teams to beat. They're currently the best team in North America after placing in the top three of the previous Majors. The question is: Will OpTic have a chance against teams from EMEA?
The top-ranked European team is FPX. The champions are a big threat after their stellar performances at previous Majors. The players are aggressive and strategic, making them tough to beat on offense or defense.
Paper Rex is an underdog team to watch. They are extremely aggressive, making them entertaining to watch and unpredictable.
Halo Championship Series Orlando Major
Game: Halo Infinite
Prize Pool: $250K
Date: September 23 – 25
Teams:
OpTic Gaming
Gamers First
Sentinels
Cloud9
eUnited
G2 Esports
Pioneers
FaZe Clan
Acend
Quadrant
Natus Vincere
JLINGZ esports
Spacestation
NOTE: 7 spots TBD from Open Bracket
The third Major of the 2022 HCS season will bring the top Halo teams to Orlando, Florida. The main event of the in-person tournament is a 24-team double elimination championship bracket will determine the champions. The participating teams will be decided by an open bracket and pool play beforehand, with the winner taking home the majority of the $250K prize pool.
What makes the Halo Championship Series so interesting to watch is the sheer amount of teams that have the chance to prove themselves on the big stage of each Major. Teams will be flying in from all over the world for a chance to compete in the championship bracket.
Of course, there are favored teams to watch out for, however. Keep an eye on Cloud9, Sentinels, OpTic Gaming, eUnited, and FaZe Clan.
Looking to stay on top of all the esports action? Check out Abios' packed tournament calendar to see every esport taking place in September.