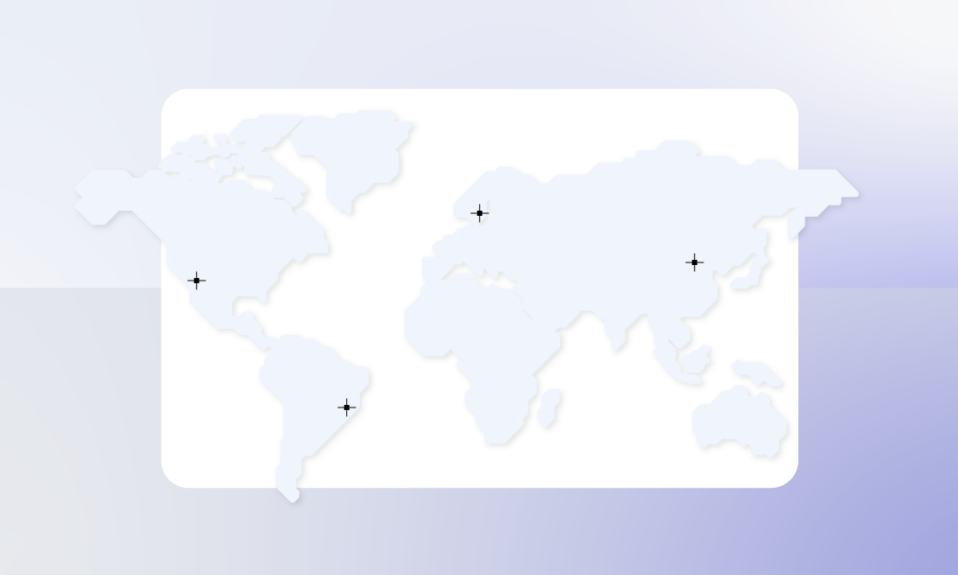 Esports has become a truly global phenomenon, with teams and players scattered throughout the world. But which countries and regions are leading the race, and why? Abios aims to answer these questions by utilising ten years of historical data to showcase the growth and geographical distribution of esports teams.
In the early days of esports, when beloved games like League of Legends and CS:GO were just gaining traction, the scene was a far cry from the bustling, high-tech industry we know and love today. Fans huddled into cramped small-scale venues, and online tournaments were the norm due to the geographical disparity between esports enthusiasts.
It was a time distinguished by a strong grassroots movement of players, teams, and companies driven by a passion for esports. Match results took a lot of work to follow, and broadcasts were tricky to find. Amidst all the chaos, Abios emerged to provide the industry structure and easily accessible data.
Initially, we focused on providing schedules, results, and statistics for various esports games, empowering fans to stay up to date on the latest matches and tournaments. As the industry grew, so did we, expanding to power other organisations within the esports ecosystem.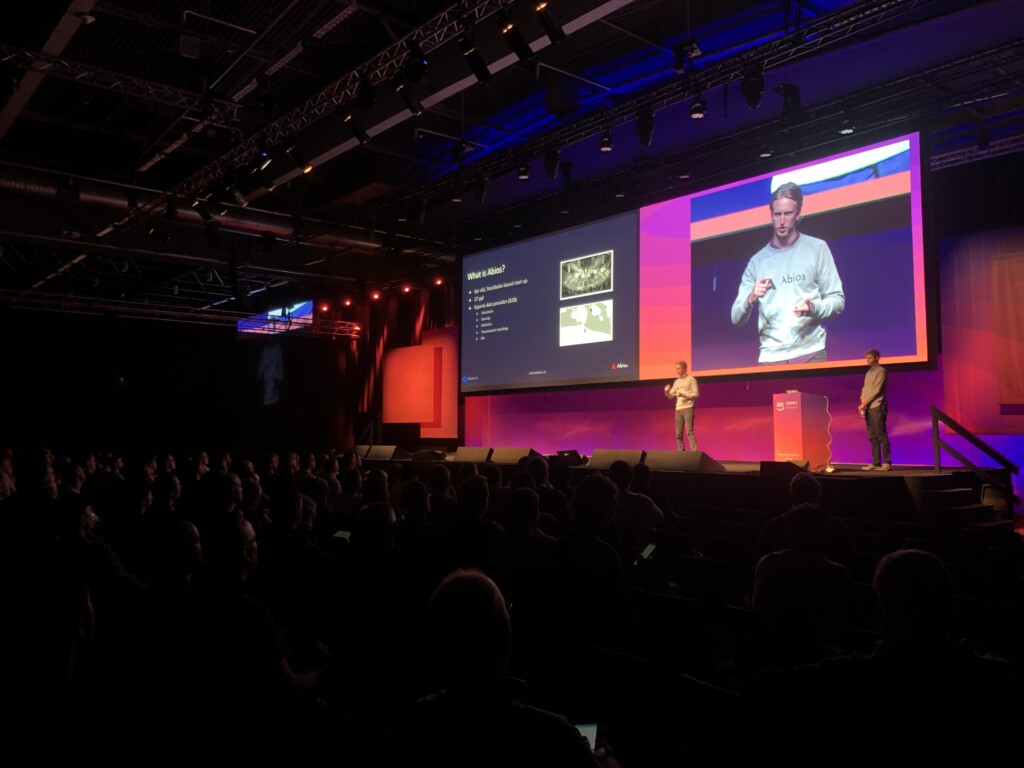 Today, we have a database filled with over ten years of data. We decided to deep-dive into data from esports teams in the most popular games to determine the countries and regions where esports have flourished over the years. Graphs 1 and 2 show the explosive growth of esports teams in Abios' database over time.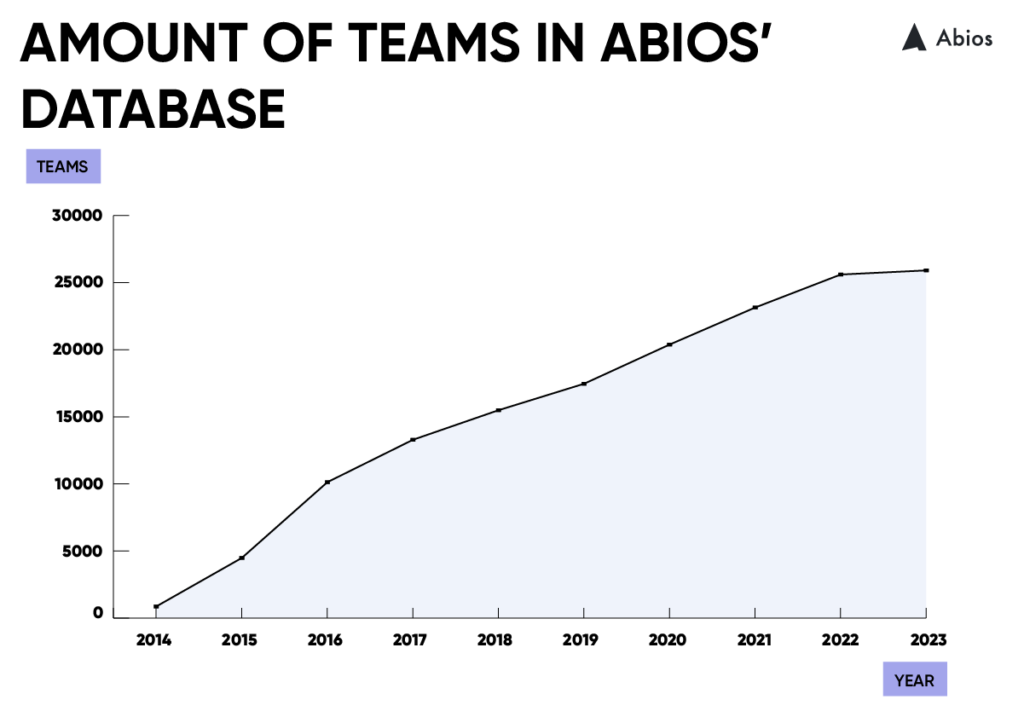 The differences in fan culture between esports and sports
The rise of esports coincided with the broader adoption of the internet and increased globalisation, driving a culture of watching content on streaming platforms while playing games rather than in arenas with friends. 
RELATED: Abios' Esports Trends 2023.
In traditional sports, many teams have roots in specific cities and countries. As a result, many football and basketball enthusiasts become fans of particular teams due to proximity or family ties. These local ties don't exist in esports. Instead, fans follow specific players or streamers affiliated with a team. A notion echoed by a 2019 report by McKinsey, stating that esports fans see their attention divided between streamers, professional players and teams.
So where do esports teams come from?
While some teams, such as MiBR with Brazil or NAVI with Ukraine, are known by their country of origin, most are inherently international. Much like in sports, teams can be made up of players with nationalities from all over the world, focusing on their skills and performance rather than their origins.
RELATED: Read about how Abios has helped NAVI in creating a better fan experience
Take, for example, Fnatic, a team with roots in Sweden but now headquartered in London, United Kingdom. Their international image is far removed from their country of origin, with fans worldwide following their every move. It mirrors their rosters in CS:GO and League of Legends, seeing more than six nationalities among players.
Similarly, when SK Gaming won the CS:GO Major in 2016, the victory was considered Brazilian despite the team being German. Instead of being larger than their players, one can argue that esports teams are their players.
Nonetheless, some countries and regions have seen more significant concentrations of teams and players earlier than others.
The geographical distribution of League of Legends teams
Many parts of Europe saw an early adoption of home computers and high-speed internet, allowing an esports culture to evolve in several games. When League of Legends was released, a large organic player base quickly emerged in the region. With an early established and growing player base, Europe naturally became home to many teams and professional players.
Other regions caught on quickly despite Europe's early dominance in many esports titles, excluding Starcraft. Most notably Asia, spearheaded by China and South Korea. The countries have produced incredible talent and teams in League of Legends. In fact, South Korean and Chinese teams have won World Championships in the game since 2013. They aren't showing any signs of slowing down anytime soon, either. Korean teams were on top during the World Championships in 2022, with DRX snagging the victory from T1, followed by JD, a Chinese esports organisation.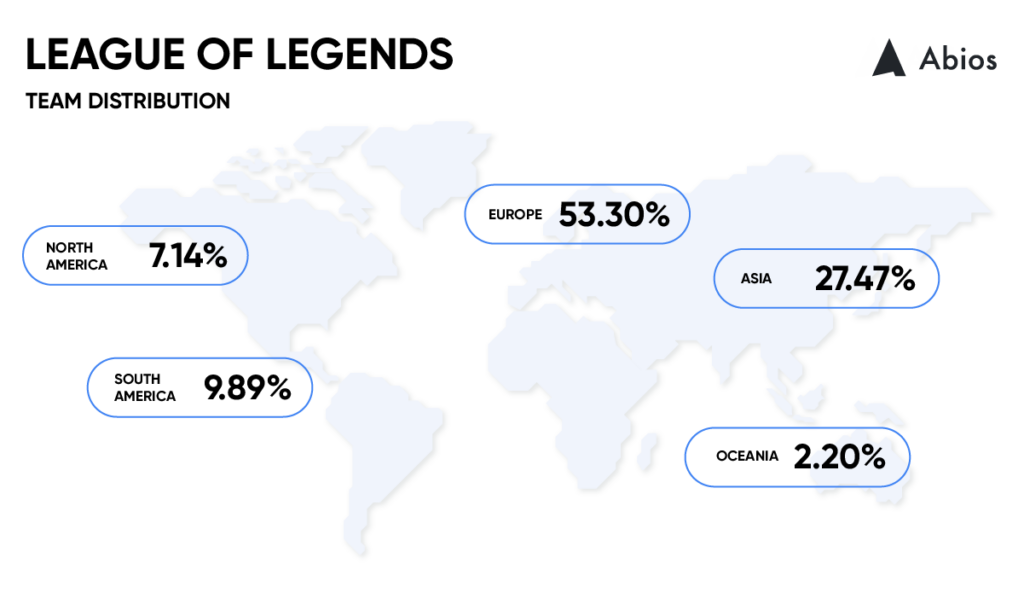 Top countries with most active teams in League of Legends:
China
Spain
Brazil
United States
France
The geographical distribution of CS:GO teams
CS:GO sees an even more substantial majority of teams in Europe, with over 50% established in the region. In particular, CS:GO sees a strong heritage in Europe's CIS and Nordic regions, which might explain the heavy majority of teams in the area. Regarding continents, North America comes second with 18.9% and Asia third with 15.13%.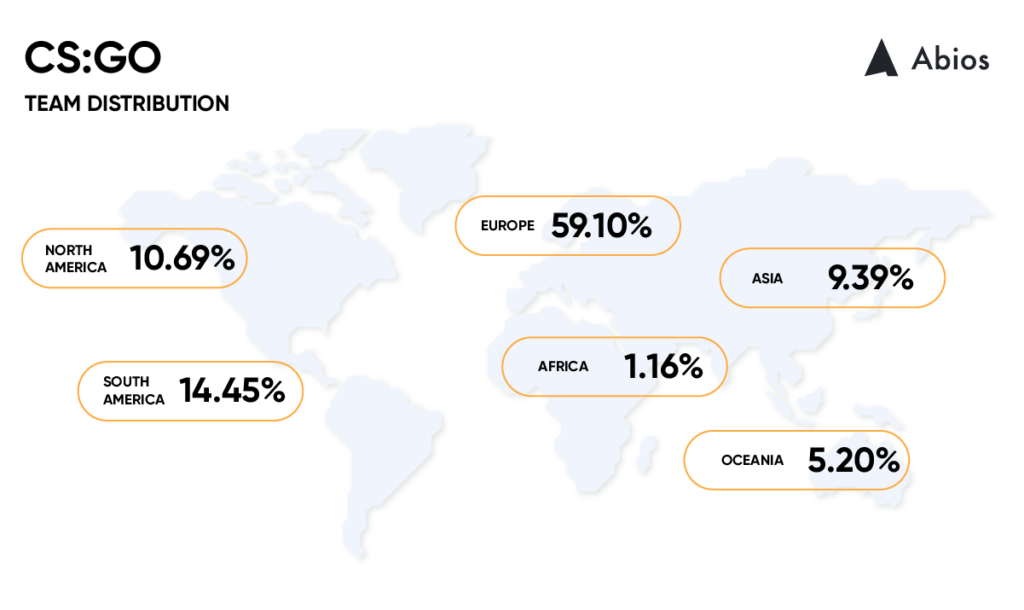 Top countries with most active teams in CS:GO
Brazil
United States
Russia
Sweden
Australia
The geographical distribution of Dota 2 teams
While Dota 2 has a more even distribution than CS:GO, it also sees a substantial majority of participants in Europe and Asia. It is mainly due to its strong base of regional players in the CIS region and China. The first place trophy of The International in Dota 2 was during the first 7 years raised in alternating years by European and Chinese teams. The years were biannually called European or Chinese years for the tournament even ahead of its commencing.
However, it remains to be seen how China's video game policy will affect its ability to produce esports talent in the future.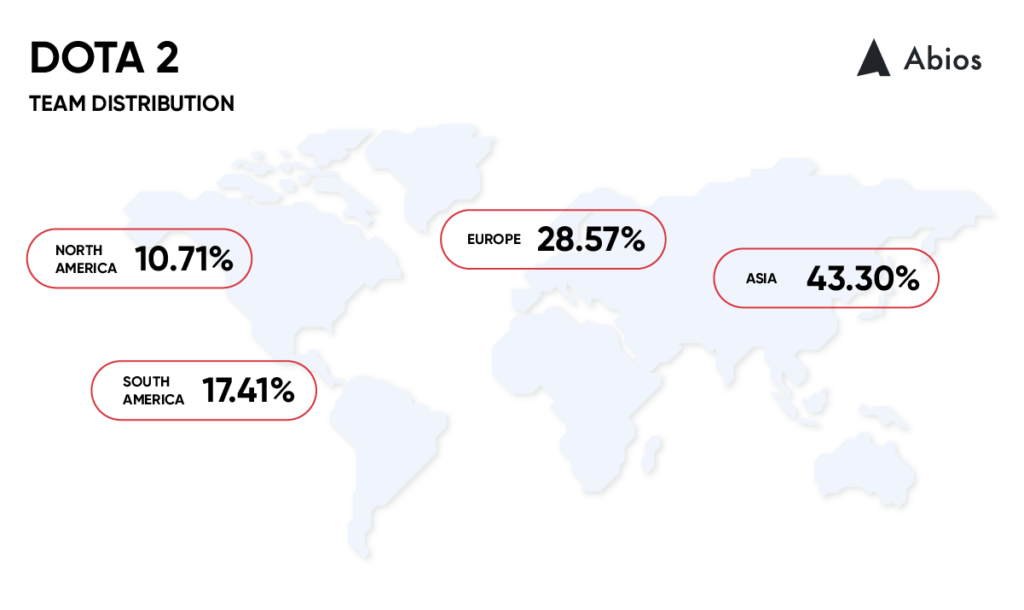 Top countries with most active teams in Dota 2
China
Peru
Philippines
Russia
United States
Disclaimer: All data comes from the Abios database. The map in the images is Designed by Freepik
Would you like to know more about your favourite teams, or do you need data for your next esports project? Abios fuels customers around the globe with esports data, widgets and predictions in the most popular titles, including League of Legends, CS:GO and Dota 2.
Discover the world of esports data here.