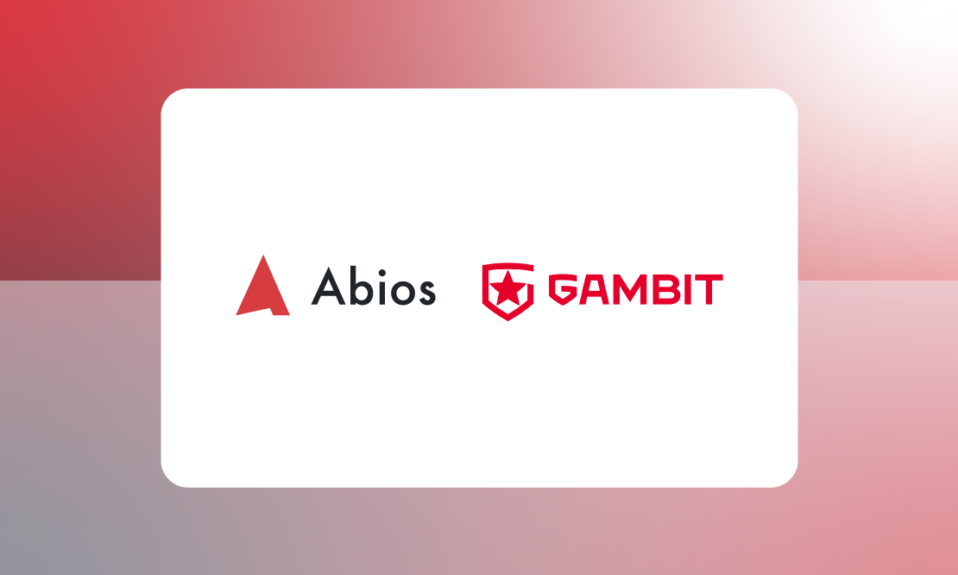 Being one of the most well-recognised esports teams in CS:GO, Gambit Esports has many supporters and fans who follow their progress faithfully. The team has a strong presence on social media and continuously finds new ways to engage with their fans. They have teamed up with Abios to get the esports data needed to create additional value in terms of social media content and match calendars.
"Our goal is to provide unique content and this partnership should ensure that our fans are more involved with what's happening with the team. Integration with a great and comfortable API went smoothly due to Abios' willingness to help."

Nikita Koroteev, Head of Media, Gambit Esports
Detailed match calendar
Gambit has active rosters in several esports, including Dota 2, CS:GO, Valorant and Fortnite. The team understood that some fans might want to follow specific rosters and games. Therefore, they've created a detailed match calendar. It covers all upcoming matches and tournaments they would participate in, divided by game.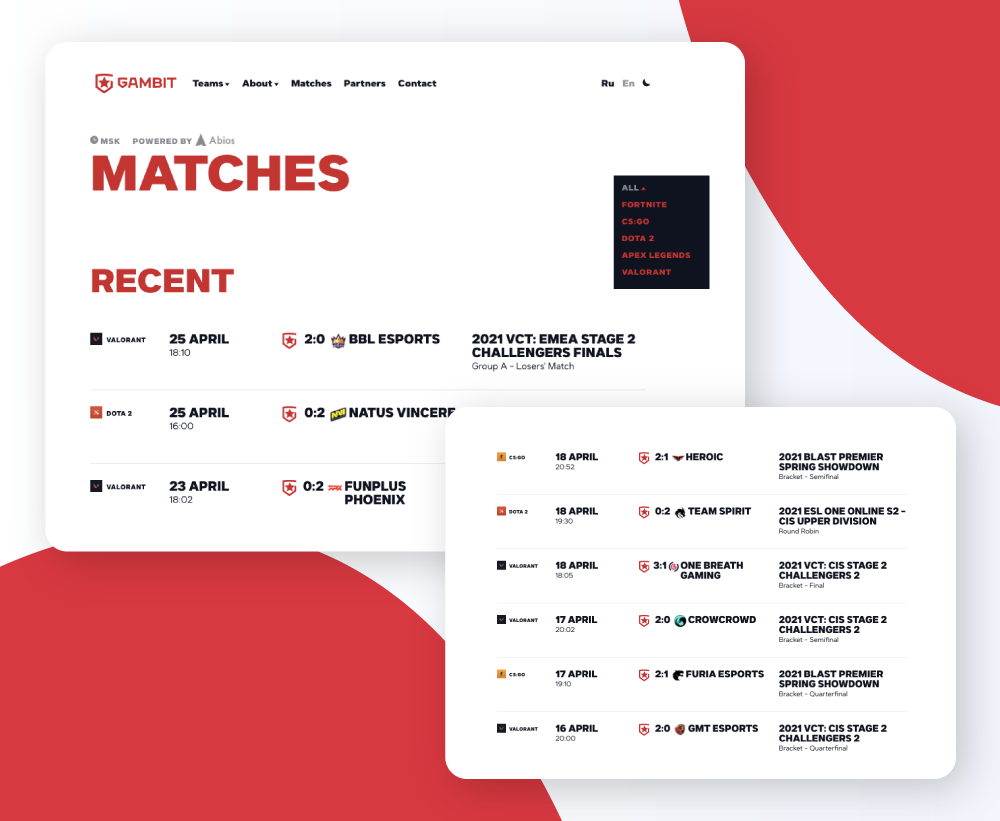 The match calendar is separated into two parts: upcoming- and recent matches. This gives the esports fans results from past games matches, as well as a clear schedule of the upcoming matches, making it easier for them to follow all the rosters in the team.
Abios REST API powers the calendar with esports data. The data comes in a normalised way across every game, making the calendar easier to build as all data is standardised. The only thing Gambit had to do was to decide what the front-end UI should look like.
Content for Social Media
Along with the match calendar, Gambit uses Abios data and statistics to create engaging content for Twitter, Instagram and Facebook. The granularity of the esports data makes for interesting facts that work well on social media. For example, one can show information about which player has thrown most flashes in CS:GO during a specific time period. Or which player has killed most enemies with Jett's Blade Storm in Valorant. All to engage and add value to the fans.
"Abios is happy to support Gambit Esports with anything necessary in their quest to create additional value for their esports fans. Our journey together has only begun and we look forward to seeing which other verticals we can explore to create an even better experience for the esports fans and supporters through engaging data-driven content."

Jacob Howard, Key Account Manager, Abios
About Gambit
Gambit Esports is a Russian esports team with several competitive rosters in CS:GO, Valorant, Fortnite, Dota 2 and Apex Legends. Their latest achievements include winning IEM Katowice World Championship 2021 in CS:GO and VCT Master in Valorant, being the first CIS team doing so. Visit Gambit Esports
About Abios
Abios provides industry leading esports data and technology for customers all over the globe. We provide data, compliance, odds and widgets products for popular esports titles including CS:GO, League of Legends, Fortnite and Dota 2.
Do you want to read more about how esports data can fuel your business?