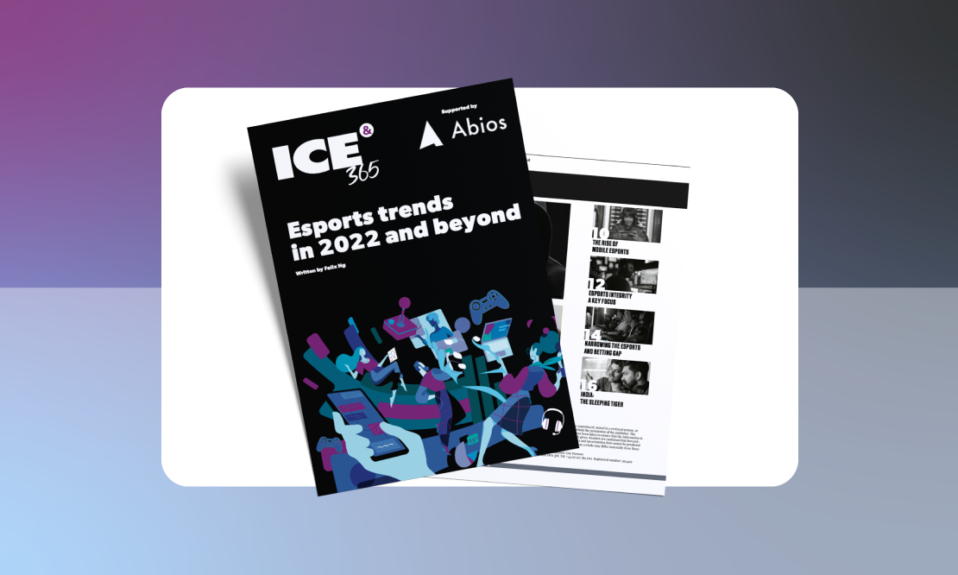 Read up on the latest esports trends in 2023 here.
Being a young and upcoming industry, esports has seen large shifts year over year, with new trends and inflection points around every corner. Felix Ng outlines the largest ones for ICE 365 report "Esports Trends in 2022 and Beyond". 
We believe in sharing in-depth knowledge in our mission to support the growth of esports. Hence, we're happy to announce that we're supporting the report:
As the official esports data partner to Clarion Gaming, we're incredibly happy to support their quest in providing the iGaming industry with in-depth esports market projections. Our goal is

to facilitate the growth of esports and believe it's achieved by providing the building blocks to create great esports products and by sharing and exchanging expert knowledge.

Oskar Fröberg, CEO & Founder, Abios
The report goes through the many different developments and trends throughout the industry, mainly:
1. Cyber security
Cybercriminals pose a threat to all industries, but maybe more so to esports. With its maturing infrastructure and high growth rate, esports is in the risk zone of becoming increasingly targeted by hackers. With high growth, comes more investors and an inflow of cash, which attracts nefarious actors seeking quick financial gains. Some ways in which cybercriminals may target professionals, sponsors, games and tournament organisers are DDoS attacks, cheating software, ransomware and hacking into systems to steal sensitive information.
While this is important to keep in mind, proper IT-security practices such as using two-factor authentication goes a long way for keeping accounts and company information secure.
2. Responsible gaming
Many people have heard the coined term "responsible gambling" due to the addictive nature of betting. Video games have shown similar, addictive effects on some people, as they spend an increasing amount of time online instead of tending to their regular lives.
This has led the world's largest country by population, China, to make a drastic change in their legislation regarding minors playing video games. Minors are not allowed to play video games more than three hours a week, which could impact China's potential of producing future esports professionals. Time will tell if other countries will follow suit.
3. Mobile esports
As we mentioned in April 2021, mobile esports is on the rise. While we still see regular esports being dominant in western countries, their mobile counterparts have taken over in other parts of the world. To this day, the most popular esports event in terms of peak viewership is Free Fire World Series 2021 Singapore. It enjoyed a record-breaking 5,4 million viewers.
4. Competitive integrity
Most funds in esports come from different sponsors and partners. They see the industry as a growth sector and a way to reach the younger generations. While this has been successful in many ways, no company wants its brand to be affiliated with unsportsmanlike or criminal behaviour.
Unfortunately, there have been headlines over the years with both cheating and match-fixing allegations against players, teams and coaches across all tiers. While the largest number of incidents are confined to lower tiers of play, there have been a couple of high-profile incidents as well.
As more sportsbooks venture into esports, it's important for the industry to come together and combat integrity-related issues such as match-fixing and cheating on different levels. Be it through a governing body such as the ESIC, or through common initiatives between tournament organisers, teams and players, it's an integral part of protecting the future of esports.
5. Esports betting
While the esports betting market is still lagging behind the sports market, there's definitely potential in terms of product improvements and the esports fan base. However, where sportsbooks have vast knowledge in football, basketball and hockey, esports can seem like a daunting field for someone unfamiliar with it. Tournament structures, the popularity of games and in-game patches change rapidly, which bring the need for expert knowledge in every aspect of the game.
6. The potential of the Indian market
India is proven to be one of the fastest-growing countries in the esports space, with 31,79% YoY PC and mobile game revenue growth in 2021 alone. The country still needs to overcome some growing pains in terms of poor regulation and a lack of governing bodies. However, it's gaming consumers are expected to make up 56% of the Asia-10 market, making it an important force to be reckoned with in the esports industry.
The full report with additional points and insights can be found here: