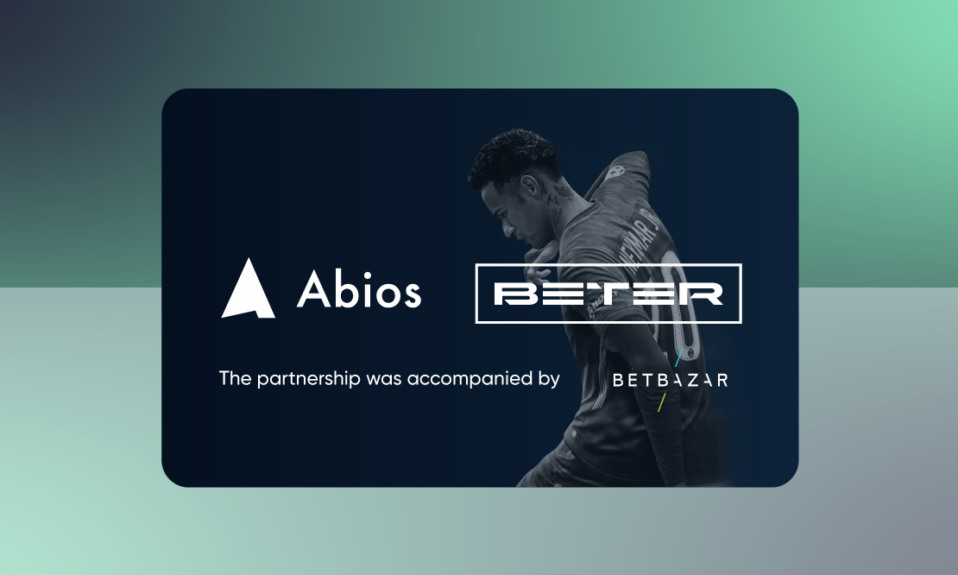 Abios, part of the Kambi Group, has entered into a data partnership facilitated by Betbazar for the data rights and fast betting tournament content powered by BETER.
The deal gives Abios access to BETER's eSoccer and eBasketball data consisting of approximately 14,000 matches every month, allowing Abios to distribute 24/7, year-round content across its customer network, providing partners with fast and engaging betting events.
Brokering the agreement between Abios and BETER, Betbazar acts as a global ecosystem for the entertainment industry, connecting suppliers with their relevant operators and platforms.
Fast betting tournaments are among the strongest growing segments in the esports betting industry – providing players with an extensive range of betting opportunities with fast settlements while driving increased turnover and solid margins for sports betting operators.
Many tournaments in soccer and basketball were cancelled or suspended during the initial waves of the pandemic, leading sportsbooks to look for new content to fill the gap in their offering. eSoccer (FIFA) and eBasketball (NBA2K), among other esports, quickly became popular filler products.
Moreover, many sports naturally have off-seasons where player transfers, rest and practice take place. Here, esports have proved to be excellent alternatives to traditional sports, offering consistent content in a format sports fans recognise and enjoy watching.
While Abios has offered both live and pregame data in FIFA for years, partnering up with BETER will allow them to further enhance their offering and create an all-in-one eSoccer and eBasketball product for sportsbooks.
"We're thrilled to partner with Betbazar for the data produced by BETER, an industry leader in creating content for betting and gaming solutions," said Oskar Fröberg, CEO and Founder of Abios. "By expanding our eSoccer and eBasketball offering through our partnership with Betbazar and BETER, we hope to help sportsbooks fill in the gaps in the highly seasonal sports calendar and provide engaging 24/7 content for sports fans. We have recognised a rapid emergence and growth of these content-rich offerings and continue to see a steady demand for this type of product."
"We are delighted to start working with Abios, a leading B2B esports data and technology provider, and to be supplying them with BETER Esports events," Gal Ehrlich, CEO at BETER, commented. "We would also like to express our gratitude and appreciation to Betbazar for supporting us with the opportunity of engaging Abios. We look forward to productive and long-term cooperation."
"BETBAZAR`s latest partnership is a testament to the success of Esports and next-generation verticals in becoming a key part of every major platform's portfolio. To be a market leader you need to appeal to every demographic and that is what Abios is so expertly doing here" commented Max Sevostianov, COO at Betbazar. "It is a privilege to be able to perfectly match the right buyer with the right seller in this way. BETER has exactly the right products to ensure Abios' continued growth."
About Betbazar
Betbazar is the sports betting industry's leading global sales house, dedicated to sourcing the market's best products to deliver unmatched efficiency to operator partners. As a global sales house, it specialises in innovative content, odds and streaming services, as well as advanced AI-based personalisation tools to drive player engagement.
With a client list that includes the likes of Bet365, Betsson, BetVictor, Fortuna and William Hill, Betbazar specialises in next-gen player acquisition and retention – and has proven key to driving incremental revenue and digital transformation for the industry's leading sportsbooks.
About BETER
BETER is the industry's leading supplier of high-velocity, fast-paced betting products, designed with the next generation of players in mind. The company is dedicated to delivering constant engagement as well as 24/7 entertainment with superior pricing and odds across 30,000 monthly live events. BETER's verticals span BETER Esports, BETER Sports, BETER Live and BETER Gaming.
About Abios
Being a wholly-owned subsidiary of Kambi Group PLC, Abios provides industry-leading esports data and technology for customers all over the globe. We provide data, odds, and widgets products for popular esports titles including CS:GO, League of Legends, VALORANT, Dota 2 and FIFA.