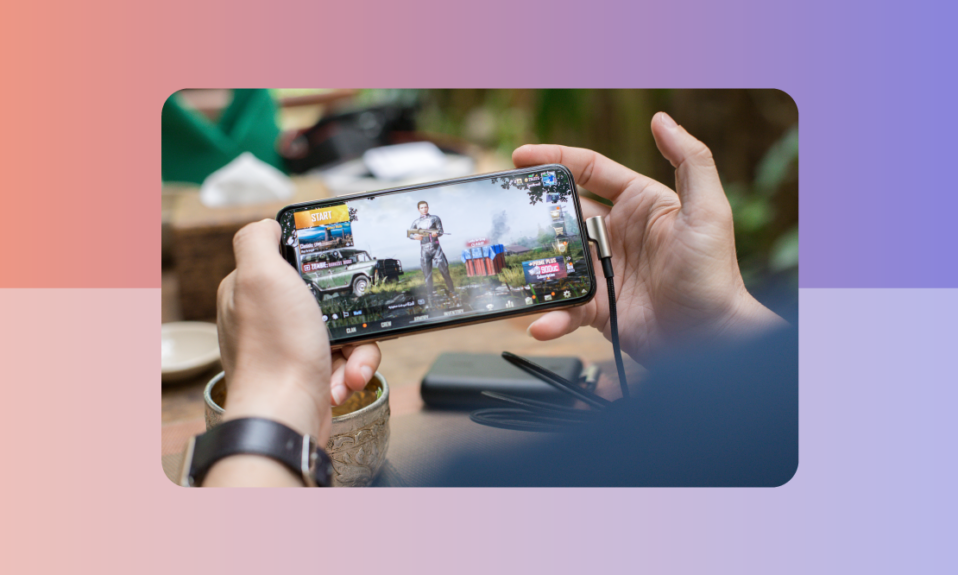 In 2020, mobile games generated revenues of $86.3 billion (49% of the global games market). This is up +25.7% from 2019

Newzoo
Mobile games are played by about 2.2 billion people all over the world. Even if most of the games are casual pastimes, several apps have become successful esports. Mobile games such as PUBG Mobile, Free Fire and Honor of Kings have taken inspiration from their PC counterparts and developed into flourishing esports scenes with global audiences of millions of people.
The rise of mobile esports has especially been prominent in emerging economies such as China, India, Brazil and parts of Southeast Asia. The smartphone penetration and increase in internet connectivity has accelerated the growth. It has also opened up for an esports genre which doesn't need high-tech gaming computers or consoles to be mastered. Read more about why some games become esports.
Technological Developments
The fast development of the smartphone market has played a pivotal role in fueling the mobile esports industry. The games often require fast and reliable internet connection, which can easily be provided by todays' 4G -and wi-fi technology. The other enabler is the enhanced hardware. Tablets have up to 13' inch-screens combined with processor capabilities on par with computers, which makes for a greater player experience. The gaming capabilities of smartphones have also drastically improved, especially with the rise of dedicated gaming phones from manufacturers such as Asus and Lenovo. 
RELATED: Mobile Esports: Why Smartphones are the New PCs in Many Parts of the World
Mobile esports games tend to be quite resource intensive in terms of hardware, internet connectivity and functionality. They often require current smartphone and operating systems to run properly. As the newer smartphone models can be expensive, many people in emerging markets can't afford them. As a result, many game publishers have created light versions of their apps. The light versions might not hold the richest features of the apps, but make the games accessible for cheaper devices, enabling a broader audience and a higher level of inclusion.
The infrastructure of mobile esports
Streaming platforms
Mobile esports are mostly consumed on streaming platforms such as Twitch and Youtube, where the matches are broadcasted live. The success of mobile esports can largely be attributed to the ease of viewership, as people watch the games for free from all parts of the world. Consequently, the platforms function as engines for distributing the games to a wider audience.
Tournaments
The infrastructure for mobile esports has improved vastly in recent years. Several mobile game publishers have developed and built successful tournament structures for their games. The tournaments often start in regional playoffs, which culminate in a world series where the best players are crowned. As in regular esports, the game publishers often arrange their tournaments by themselves. However, more actors are joining the playing field.
Most recently, ESL Gaming has launched a new mobile esports ecosystem for North America, Europe and Asia-Pacific. It will host tournaments for games such as Clash Royale, PUBG Mobile and League of Legends: Wild Rift. As more actors venture into the field, we expect a larger number of tournaments, enabling a broader audience and more commercial opportunities, as well as a growth for the ecosystem as a whole.
Mobile Esports vs Regular Esports
Based on the viewership numbers from esports tournaments on Youtube delivered by Newzoo, the most popular mobile games superseded many computer based esports games in Q4 2020.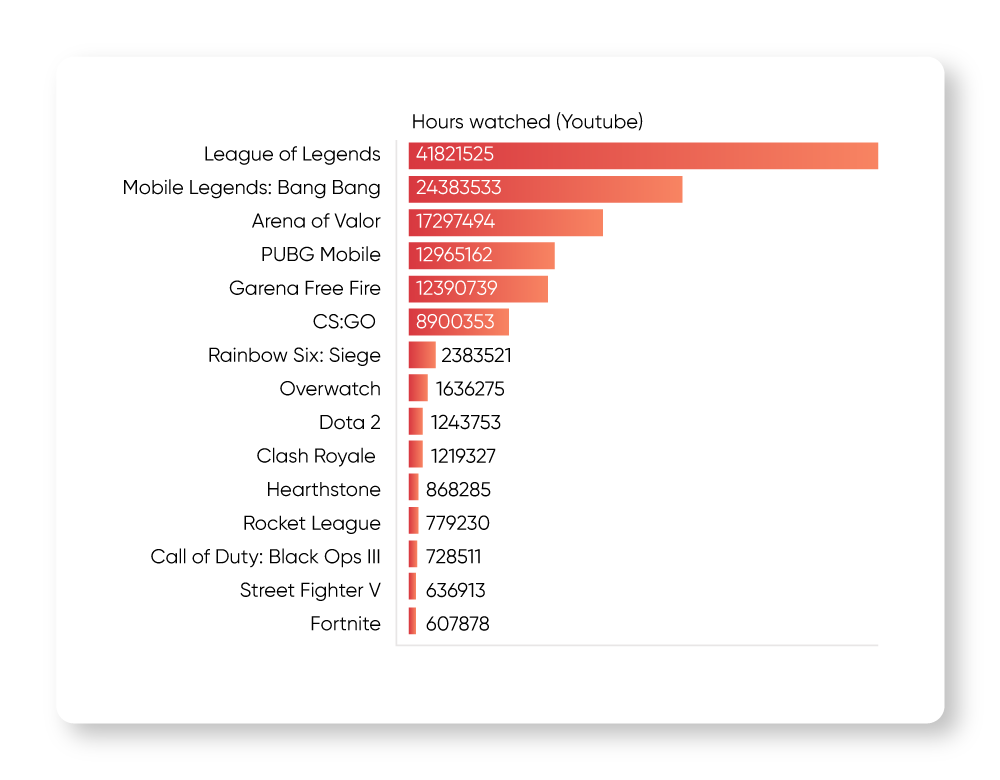 According to Youtube's viewership data, the most popular mobile esports games were Mobile Legends: Bang Bang, Arena of Valor (Honor of Kings), PUBG: Mobile, Garena Free Fire and Clash Royale. All of which amassed more popularity on Youtube than esports household names such as Overwatch, Dota 2 and Rocket League.
The 5 Most Popular Mobile Esports
Mobile Legends: Bang Bang
The 10-minute mobile version of League of Legends is here. Mobile Legends: Bang Bang (ML:BB) is one of the biggest mobile esports games. It is widely popular in the countries of Southeast Asia and Oceania. It has taken inspiration from the Riot Games' League of Legends in both gameplay, mechanics and champions.
The game has found a lot of success, as the latest international ML:BB-tournament, MPL International 4 Nation Cup, raked 1 million viewers. There are also several regional tournaments where MPL Indonesia is the most popular one. It consistently boasts around one million viewers and has had prize pools of 300,000 dollars.
Honor of Kings
Honor of Kings is a Tencent-owned mobile game in the MOBA-genre. The game peaks in popularity in mainland China, where 96% of its revenue is generated. Similarly to ML:BB, it has taken a lot of inspiration from League of Legends and is one of the first in its genre of mobile games.
The game is the highest grossing game in China according to Newzoo. It boasted one of the highest overall prize pools in esports, raking up to 4,6 million dollars during the Honor of Kings World Champion Cup 2020. The game has also become a cultural phenomenon, with its own tv-series and museum in China.
Explore Abios coverage for Honor of Kings here
PUBG Mobile
The predecessor to Fortnite has found tremendous success in mobile esports as well as in its origins as a PC-game. PUBG Mobile features 100-player-battles in a Battle Royale arena. It has reached popularity all over the world and especially in Southeast Asia.
The PUBG Mobile esports scene is definitely something to keep an eye out for. The 2021 PUBG Mobile Pro League will amass the largest prize pool in mobile esports to date, 14 million dollars. It will also expand into seven new regions and has announced a World Class Tournament which will go live during the summer of 2021.
Interesting fact: Tencent, the game publisher of PUBG Mobile, couldn't initially publish the game in mainland China. The country didn't approve of the amount of gore and blood in the game. Consequently, Tencent had to publish two versions of the game: Peacekeeper Elite (formerly Game of Peace) and PUBG Mobile. The former being a game that met China's content restrictions and the latter being the original game.
Explore Abios coverage for PUBG Mobile here
Free Fire
Free Fire is a fast paced Battle Royale where players get to compete against 49 opponents. The goal is to survive as long as possible. The game originally found its success in Southeast Asia, but has garnered great popularity in South America as well. According to Garena, the publisher, it has been the most downloaded game on iOS App Store and Google Play Store for two consecutive years.
The tournament system of Free Fire is set around regional competitions, where it is seeing great viewership numbers. In Brazil, the season three of its Pro League amassed over 1 one million viewers alone. Regional competitions are hosted in CIS countries, Thailand, Indonesia and more.
Singapore will host the The World Series 2021, which will cover an overall prize pool of 2 million dollars.
Explore Abios coverage of Free Fire here
Clash Royale
Developed by Supercell, Clash Royale is a combination between MOBA, tower defence and collectible card game. It reached 1 billion dollars in revenue during its first year (2016) and is now one of the most popular mobile esports in the world. It has a player base of around 17 million players, many of which are in the United States, China and Mexico.
Clash Royale League have formerly been based around teams such as Dignitas, Team Queso and Tribe Gaming. Major changes have occurred for the 2021 edition, most likely to help players compete in an easier manner during the pandemic.
The structure will be set around individual players instead of the teams. This makes it more flexible as teams and players can find the best ways to participate in the tournament themselves, instead of having a fixed amount of teams volunteering a set amount of players. The prize pool will also be larger, going up to 1.6 million dollars from the former seasons' 1 million dollar prize pool.
Honorable Mention: League of Legends: Wild Rift
As mentioned above, several of the biggest mobile esports games in the MOBA-genre are based on or inspired by League of Legends. Therefore, it only seemed right to include Riot Games' newest creation, League of Legends: Wild Rift (Lol: WR), on the list. It officially launched the 29th of March 2021 and is a mobile version of the extremely popular computer game.
Riot Games has already kicked off esports tournaments for Lol: WR with local competitions in Southeast Asia, which will later culminate in regional playoffs. The company has hinted on more local and regional tournaments for the game. However, only time will tell if it will manage to reach the same traction as ML:BB or Honor of Kings.
How to obtain esports data for mobile esports
Abios offers granular data and statistics on several of the biggest mobile esports titles such as Free Fire, PUBG Mobile and Honor of Kings. We will continue to monitor the emerging market and add new games as the demand grows.
Do you want to learn more about our solutions for mobile esports?