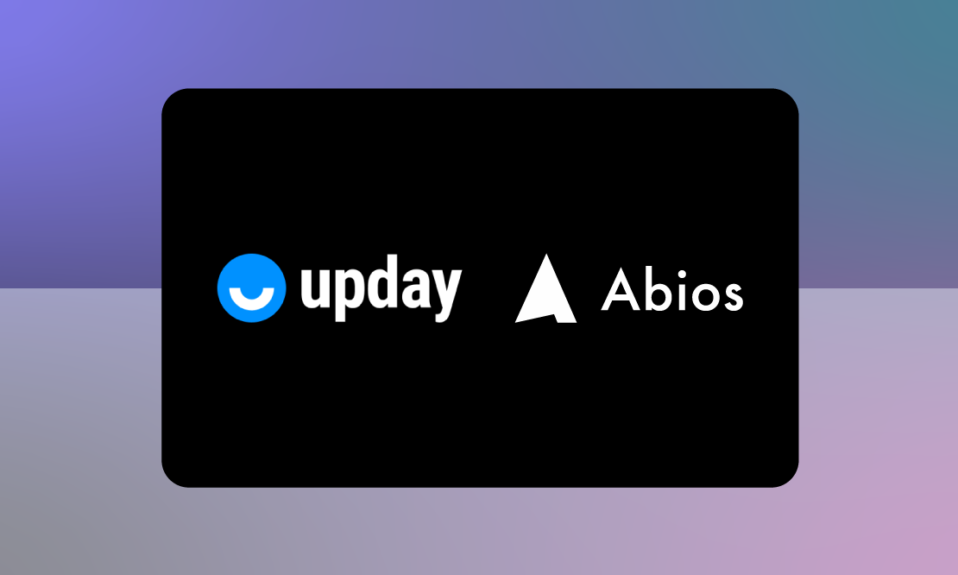 Esports has become a global phenomenon with large audiences, teams and players worldwide. As the number of tournaments in games increase, it's harder for esports fans to keep up to date with everything that's going on. Upday, the main news service for Samsung smartphones, and Samsung, has collaborated to solve the issue by creating a brand new esports app called Jaxon. It combines esports journalism with entertaining infotainment. It will feature esports news, community features, an CGI-character called Jaxon as well as an esports calendar powered by Abios data.
We decided to have a sit down with Sebastian Gastl, Strategic Projects Manager at Upday, to pick his head about Jaxon, his plans for the app and his thoughts on the future of esports.
First of all, congratulations on the release of "Jaxon". Let's start by asking, what is Jaxon?
Thank you very much! After half a year of development and 18 months of planning, we are very happy to finally be able to release Jaxon to the esports community. Jaxon is a Samsung mobile exclusive esports news app, designed to serve fans the best and most relevant content around their games from different channels like YouTube, social media and other news sites. For this, we have our own Editorial Team carefully curating the best content available as well as producing high class first party content. The current media landscape in esports can be quite fragmented and for a full 360-degree overview it is necessary to follow and scan several different channels simultaneously – which can be quite time consuming. This is what we want to change with Jaxon. We want to achieve that you can quickly check one app and within 5 minutes of browsing the content feed, you are fully up to date on what is going on within your favourite game – may it be esports, in-game or community related topics.
Could you tell us a bit more about the creation of the Jaxon and how you've worked internally with the project?
Sure! The mother company of Jaxon is Upday news, which is the preinstalled News Service for Samsung phones in Europe. Due to this, we were already quite close with Samsung. At the end of 2019 we identified a potential market opportunity for an esports news service like Jaxon and pitched this idea to our friends at Samsung. With Samsung already being a long-term supporter and sponsor of the esports scene, we were quickly on the same page and expanded our partnership with the aim to jointly create the best esports news service available. For this, we have gathered a team of incredibly talented developers, designers and esports journalists to realise our product vision. We have worked on Jaxon since December 2020 and are very proud to have delivered such a beautiful product in this short timeframe. The internal workflow was, of course, a bit different to the usual due to Corona, but we had a great team spirit and could overcome all obstacles without being able to see each other in person. I assume the countless afterwork League Flex Queue sessions helped a bit 😉.
From our understanding, Jaxon is not only a brand, but also a character. Could you tell us a little more about the creation of this unique character and brand?
Yes, of course. Jaxon is a space-themed character designed to be at the centre of product & brand. Jaxon will be visually present as a fully rigged CGI character but we also aim for potential offline appearances in the future through a custom built helmet – which will keep the facial identity forever a secret. Furthermore, Jaxon is supposed to become esports first virtual influencer and will act as design element, recommender and author within the app but also as a social media influencer outside the app. Jaxon's personality is self-conscious, cocky and has a very direct tone of voice. With this we aim to bring a fresh spin to esports news and consequently build up Jaxon to become a popular opinion leader within esports.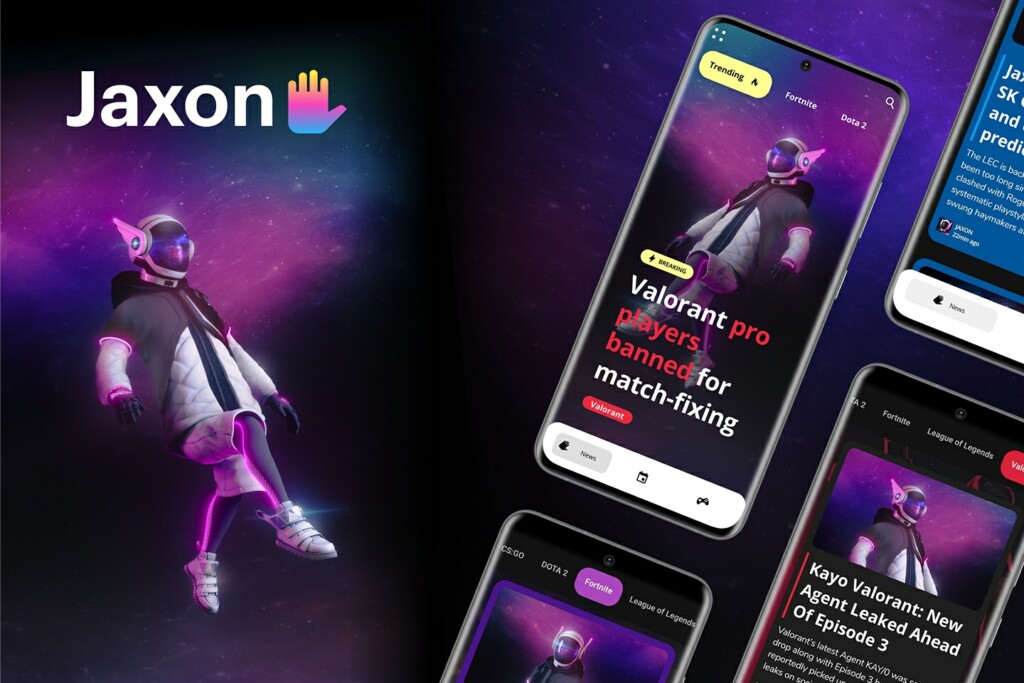 Abios is very proud to be a data partner for this project. When we first met, you evaluated several data providers. Can you tell us why you chose Abios?
While developing the service within this short time frame, two things were crucial: Reliable and fast tech support for our developers as well as a wide coverage of games and tournaments for the multi-game esports news app we were aspiring to build. In both of these fields Abios convinced us the most. The customer service was outstanding – we could literally ask technical or business related questions 24/7 on a shared Slack-channel and get a quality reply within minutes. This helped tremendously to implement the data features efficiently and within the project time-schedule. Furthermore, Abios had by far the most competitive coverage of different games and tournaments we could find and allowed us to cover all games of our app with one provider.
Can you give an example of a feature in your app that is powered by Abios esports data?
We have an in-built esports calendar feature, through which you can find upcoming or recent matches of your favourite games, check out results or live-scores and soon also dive into in-depth statistics of said matches.
From our understanding, you have several exciting upcoming releases. Can you share the vision for Jaxon?
Sure! We just released the first public version, which basically is an Early Access version of Jaxon. In late August 2021 we will release a major update, which shall bring several extra features and improvements, including in-depth calendar statistics powered by Abios. After that, we plan to focus on a different set of community features to make the App even more engaging. Looking forward, the vision for Jaxon mid-term is to become the best and most widely-used esports news app in Europe.
Finally, the esports market has grown remarkably in recent years. Do you have any thoughts on the future of esports or thoughts on interesting opportunities looking forward?
Usually these kinds of predictions never age well. Nonetheless, the future of esports looks incredibly bright. There already is a huge, passionate, international and vibrant community out there and it keeps growing year by year. At Jaxon we are ready for a wild ride the next few years and cannot wait to see where esports takes us in the future. ..*
Try out Jaxon here.