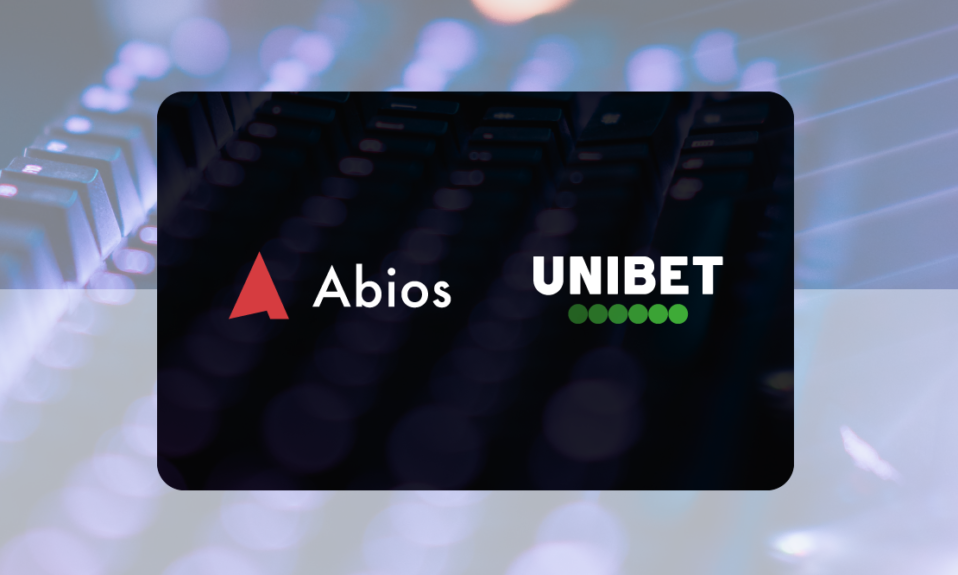 The esports market is the fastest growing sports vertical with the betting market following suit. The betting market for esports is expected to grow with a CAGR of 13.1% between 2020 and 2025 according to MarketWatch, showing a great potential for future opportunities. Unibet has offered markets on esports since 2014 and has used Abios widgets to deliver an enhanced customer experience for punters.
We decided to talk to the Esports Product Manager at Unibet, Filip Kristersson, to get his take on esports betting, how they've enhanced their betting offer and their predictions for the future.
What are your thoughts on the future of esports and betting?
Esports will continue to grow and become increasingly important for bookmakers. Within 3 years, it will be a top sport for most sportsbooks and continue to grow. Together with American sports, it will drive new innovations such as betting types, widgets, and ultra-live. The rise of eSoccer as a filler product paints an intriguing picture, are we seeing the beginning of a new paradigm? I foresee interesting times ahead.
What esports games are most popular among your customers?
The big three still rule supreme: CS:GO, LoL, and Dota 2. With the Nordics as some of our core markets, we see a lot of CS:GO activity. Hopefully, The International will be able to go forward as planned in Stockholm this summer, so we can see some proper Dota 2 action as well.
Do you see any growth in interest in other esports games? Are there any new-/upcomers we should keep track of?
While not really being traditional esports, we have seen an increase in eSoccer. The product currently has a filler-role, but can become a proper esports with the right infrastructure and fanbase. Other games of interest are Call of Duty, Valorant, and Rainbow 6, though it's too early to say anything yet. I'm interested to see the Battle Royale genre getting cracked, as it's slightly awkward to watch and place bets on now. The growing trend of mobile esports should also be followed, though it will take a while to grow big as an esports in Europe.
Have you seen any changes in the esports betting market related to Covid-19?
The rise of eSoccer was one thing we didn't see coming, it was an unexpected surprise. In hindsight, it does make sense. Almost everyone has played the game, it's recognisable, quick, and fun to bet on. The other esports saw an increase, even if the more prestigious LAN-tournaments were canceled. We have also seen an increase in activity from many of our competitors as well as suppliers. I believe the increased esports awareness benefits us as we have a strong esports product.
Thank you for bringing these great insights on the esports market. You have used our products to enhance and develop the customer experience across your platforms.
How do you use our widgets and value stats?
In short, we use the Abios widgets to enhance our customer experience. Whether you are a frequent bettor or it's your first time, we want it to be easy, smooth, and understandable to bet at Unibet. The pre-match widgets give you an understanding of the teams' latest performance, without having to leave Unibet.
Read more about Unibet and Abios partnership
The value stats have been a great way to help players try types of betting they aren't used to, as well as showcasing how you can use data to improve your betting. It's also nifty to use on external sites together with promotions.
What value has Abios products brought you?
The compliance checks made us one of the few bookmakers who could have most of our esports events available on site after the Swedish re-regulation. The mapping of streams makes sure it's possible to view every esports event on our website. Abios continuous service helps us ensure we have all the content available for all markets, something becoming increasingly important with different regulations.
Read more about player age compliance
What value has Abios brought to your customers in terms of user experience?
As can be understood from the above answers, they have been a great addition to our customer experience, prolonging time on site and helping to drive both pre-match and in-play betting. At Unibet, we want our players to feel in control and feel good about their bets. By providing additional information in a well-packaged way, we promote the expert feeling.
About Unibet
Unibet provides sports betting, online casino, bingo and online poker platforms for over 11 million customers in over 100 countries. Unibet was founded in 1997 and is now a part of Kindred Group.
Visit Unibet here
About Abios
Abios provides industry leading esports data and technology for customers all over the world. We provide data, compliance, odds and widgets products for popular esports titles including CS:GO, Fifa, League of Legends and Dota 2.