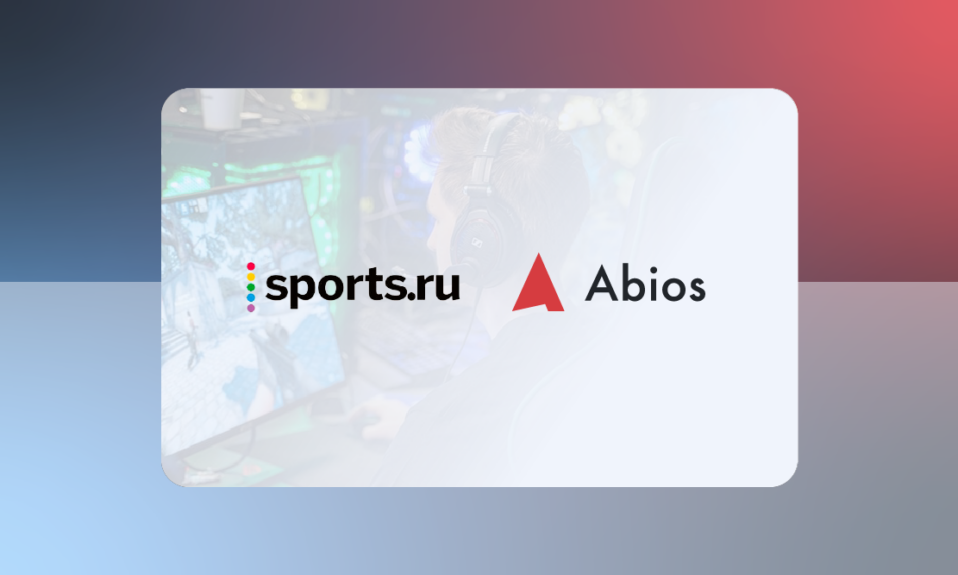 "Abios provides us with what we need, what our users need, and do it fast and securely!" – Aleksey Pontyakov, Senior Product Manager, Sports.ru
Sports.ru is the leading sports platform in Russia and in other CIS-countries. To enable the growth of their esports platforms, they've implemented Abios esports data. It allows for several features including match-and tournament calendars and in-depth statistics that augments the esports offering.
Esports, or cyber sports as it's also called, has reached wide popularity in the CIS-region. Sports.ru states that esports is among the most popular sports in Russia and Ukraine. The entire region is home to several prominent teams in both CS:GO and Dota 2 and has an established esports fan base. Furthermore, the region has a history in being incredibly fast in recognising esports as a sport. Esports got its official status as a sport in Russia as early as 2016, while several prominent esports countries such as Sweden are still lagging behind.
As the leading sports-publication in Russia, Sports.ru recognised the need for a community platform for esports fans. Their esports offering currently covers Cyber.sports.ru, an android app called Well Played and an app for Russian esports team Winstrike Team. The platforms allow for fans to take part in news, tournament-and match schedules as well as community features for esports.
Abios fuels Sports.ru's offering with esports data, enabling match-and tournament calendars as well as live statistics-and streams. For dedicated fans, the granularity of the data provides an opportunity to deep dive into both live in-game and post game statistics. The statistics provide additional value for fans and make for a great complement to the news and articles.
We have a lot of Dota 2 and CS:GO fans, and we need a stable data source, especially during main events like The International or PGL CS:GO Majors. Abios do it really great. … Our users want to get a lot of information about their favourite teams, players, they want to know tournament schedules. Also, some of our users are biggest fans, and they dive into game analytics deep during or after the match (and of course the more data the better).

Aleksey Pontyakov, Senior Product Manager at Sports.ru
"Sports.ru and their esports initiatives have come a long way and answers the need for esports coverage in CIS-countries, as many fans, teams and players are housed in the region. We're well aligned with their mission to bring esports to a position where it's on par with other sports and recognised as the ground-breaking phenomenon it is. Therefore, we are happy to support and fuel sports.ru and their various platforms with data as well as supporting their quest in creating further value for esports fans."

Jacob Howard, Key Account Manager, Abios
Integration process
The integration of Abios esports data into Sports.ru's systems has run smoothly. As Aleksey explains, Abios clear and thorough documentation made for an easy integration process without the need for extensive customer support interactions. However, whenever the sports.ru development team needed questions answered, Abios' support team was there to help.
About Sports.ru
With 20 years in operation, sports.ru is the leading sports news publication in all of Russia. The platform provides sports fans and stakeholders with blogs, news, match-calendars and community features.
Sports.ru's esports vertical is called cyber.sports.ru. It acts as a one-stop-shop for esports fans and players alike with tournament schedules, opinion posts and news. Their mission is to raise the esports community from underground chats on Twitch and put it on par with sports such as ice hockey or cycling.
About Abios
Abios provides industry leading esports data and technology for customers all over the globe. We provide data, compliance, odds and widgets products for popular esports titles including CS:GO, League of Legends, Fortnite and Dota 2.
Do you want to read more about how esports data can fuel your business?