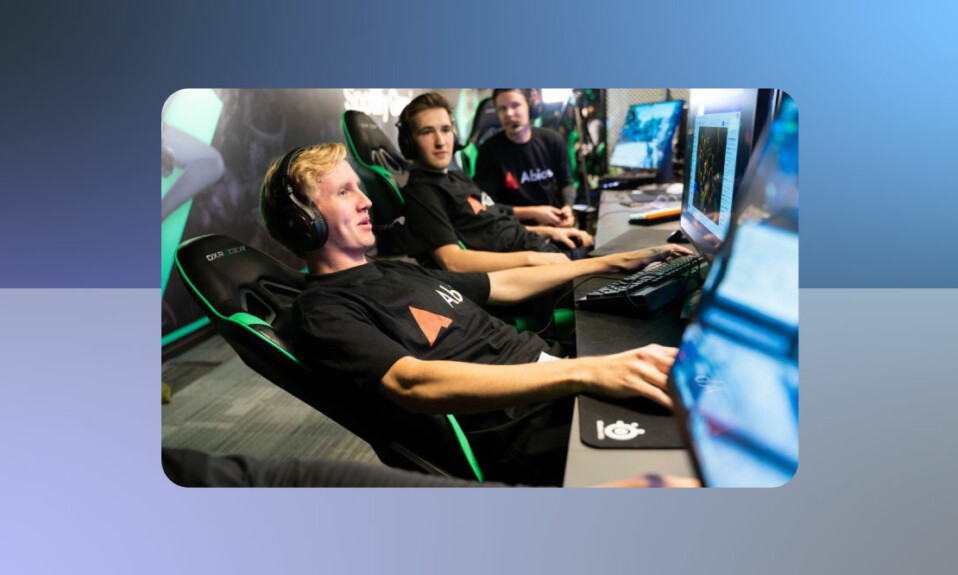 The influx of non-endemic brands in the esports scene
The esports audience is young and growing, with an expanding buying power. Many endemic brands such as peripherals-brand Razer, energy drink provider Redbull and graphics card-manufacturer Nvidia have been in the industry for years. They've reached their target audience by sponsoring popular esports streamers and showing their logos in tournaments watched by millions. However, non-endemic brands are joining the show as well. Many high-end luxury brands are in the lead, including Louis Vuitton, Ralph Lauren and BMW.
During the summer, Ralph Lauren and G2 announced their partnership, showing off a widely shared co-branded commercial. The video features one of the best League of Legends ADC's in the world, Rekkles and G2 CEO and Founder, Ocelote.
Luxury brands and the esports demographic
As many other companies, luxury brands have struggled due to the pandemic. Both as a consequence of less buying power, an increase in popularity of the used-goods market and the decrease in travel. When global travel reached an all time low, many duty-free shops and attractive tourist locations saw a significant drop in visitor numbers, also making a mark on the revenue sheets of the luxury retailers. As a result, they have found themselves in need to find alternative marketing strategies and revenue sources.
Going for the esports audience makes sense for several reasons. Due to the increasing advertising fatigue, it is important to reach young audiences early on to gain lasting brand awareness. The brands we tend to like when we are younger also tend to stick with us later.
It also make sense to reach the audience where they are. Having grown up with the digital boom, generations X, Y and Z are less susceptible to ads than their older counterparts. Thus, creating creative brand collaborations with popular computer games might just be the way to grab the attention of the hard-to reach generations.
Lastly, esports fans are far more diverse than meets the eye. Contrary to popular stereotypes, esports fans aren't just 15 year old boys in the middle of puberty. In Sweden alone, 8 % of the total internet users watch esports at least once a month. This is a broad customer group where ages average around 25 and is mostly confined to men. However, as esports grows as a phenomenon, the audience becomes more diverse as well. The stigma esports has once held is slowly disappearing, making the barrier of entry significantly smaller for women and others. It enables a more diverse esports demographic.
Well-executed esports campaigns
The esports scene has served as a way for brands to reinvent themselves and modernise their image. There are several big brands who've done collaborations in the esports scene, examples are stated below:
Louis Vuitton x League of Legends
The collaboration was in full swing in the fall of 2020, when Louis Vuitton released a capsule collection with League of Legends-inspired ready-to-wear items. Simultaneously, they also launched a new skin for a character named Qiyana in League of Legends designed by Nicolas Ghesquière.
Burberry x Honor of Kings
The British fashion house partnered up with Chinese game King of Glory (also known as Honor of Kings), creating in-game skins with the iconic Burberry plaid-pattern. It reached huge popularity in the game, enabling for the same luxury status of having the skin as having actual pieces from the brand.
BMW x Fnatic, G2, Cloud9, T1 and Funplus Phoenix
BMW did a somewhat surprising, although successful campaign, featuring five esports teams under the hashtag #UnitedinRivalry. The teams featured were Cloud9, Fnatic, G2, Funplus Phoenix and T1. As the teams have fought time and time again in the League of Legends Worlds Championships, it might come as a surprise that they would come together for a collaboration. However, the idea is to celebrate their joint passion for the game and challenging each other.
For BMW, this was part of a long term brand awareness strategy in line with their motto "THE NEXT 100 YEARS". According to ISPO, they wanted to reach the esports audience from an early age, to gain brand recognition for the future.
The stream of new, non-endemic sponsors means increased growth for the esports industry. Streamers, teams and tournaments make their bucks from sponsorships, making it increasingly important to showcase what a massive opportunity esports really is for both endemic and non-endemic brands.
About Abios
Abios provides industry-leading esports data and technology across the globe. Our main mission is to enable the further growth and development of the esports industry, while supplying tools the different esports industry stakeholders can make use of. Our product offering includes API-powered widgets, odds and statistics for 17+ esports titles including League of Legends, CS:GO and Dota 2.