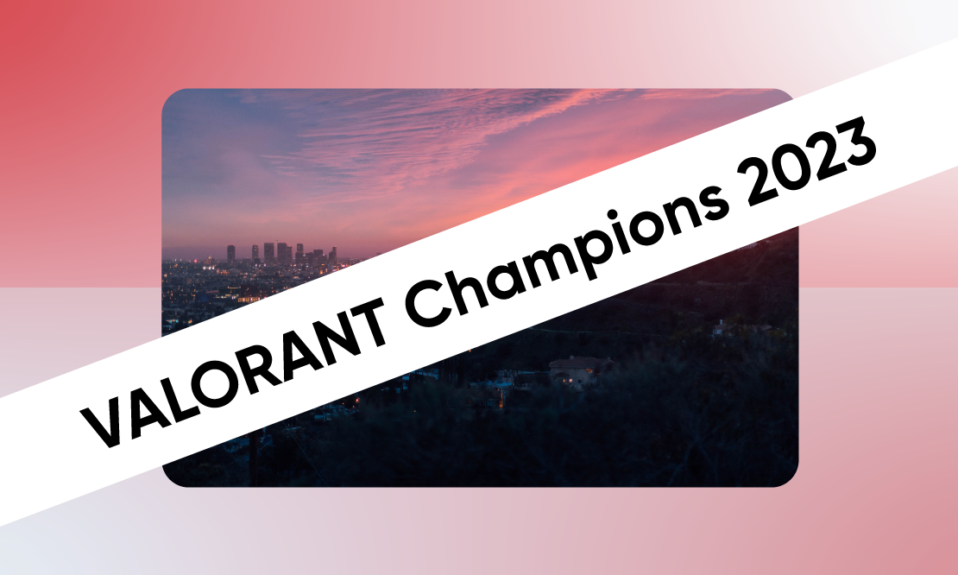 Abios deep-dives into VALORANT Champions 2023, examining viewership data, the role of co-streaming, Evil Geniuses' road to victory, performance and how an American tournament impacts the NA fanbase.
The VALORANT Champions 2023 tournament has wrapped up, and Evil Geniuses came out as the victors. But the major esports event is more than just the final moment. Here's some interesting insights into VALORANT Champions 2023 and why it proves that the VALORANT esports scene is only expanding from here.
VALORANT is a pretty new FPS title, released by Riot Games about three years ago. But thanks to the dedication Riot has to growing their games' esports scene, VALORANT has already become one of the largest esports in the world.
Evil Geniuses Take Home the VCT Champions Victory
One of the main draws of the VALORANT Champions tournament was the incredible gameplay, with Evil Geniuses dominating Paper Rex in the finals 3-1.
Despite the landslide victory, it was an intense match and Paper Rex put up a fight on every map. The opening two maps were especially close, but EG came out on top almost every time.
What made it even more of a journey worth watching was EG's tough fight to get to the Grand Finals. Adding to the viewership was EG's difficult run, including beating FunPlus Phoenix and FUT Esports in the Group Stage. The Playoffs were not any easier, pitting EG against EDward Gaming and DRX. In the Upper Bracket, EG even had to defeat previous champions Loud.
RELATED: Abios releases new CS:GO odds feed for sportsbooks
What made Evil Geniuses' so dominant at VALORANT Champions 2023? According to our data, EG had a very aggressive style that steamrolled a lot of opponents. The most-used agents were Killjoy, Raze, Jett, and Sova, meaning the squad was always focused on intel-gathering and fight-ready positioning.
Evil Geniuses Player Performance
| | | | | | | |
| --- | --- | --- | --- | --- | --- | --- |
| Player name | Kills | Deaths | Assists | Most played agent | Weapon with most kills | # matches |
| Boostio | 14 | 16 | 6 | Killjoy | Vandal | 21 |
| C0M | 16 | 14 | 7 | Sova | Phantom | 21 |
| Demon1 | 20 | 14 | 4 | Jett | Vandal | 21 |
| Ethan | 14 | 14 | 13 | Skye | Vandal | 21 |
| jawgemo | 17 | 15 | 7 | Raze | Vandal | 21 |
Abios Statistics on 21 matches with Evil Geniuses in VALORANT Champions 2023 (All K/D/A stats are truncated per-match averages)
The Vandal was the weapon with the most kills throughout EG's VALORANT Champions run. Max "Demon1" Mazanov had 200 kills with it, Ethan "Ethan" Arnold had 181 kills with it, and Alexander "jawgemo" Mor had 177. This automatic rifle helped them dominate thanks to its ability to one-tap enemies with a precise headshot, further proving that EG was looking for blood.
Evil Geniuses Map Performance
Best map overall: Lotus, with a 65% win rate (40 rounds).
Their most played map was Ascent, where they played 110 rounds with an overall win rate of 58%.
Evil Geniuses was best at attacking overall, with a 62% win rate vs. the defender side.
"Colourful kill!"
Jawgemo had the most ability kills in Evil Geniuses with 11 kills using 'Paint Shells'. Playing Raze 10 times during the tournament, this amounts to more than 1 kill per match!
Paint Shells was overall the most lethal ability, amounting to 100 kills in the tournament. Compared to the total amount of kills by the Vandal (10.544), it wasn't a lot (showcasing just how few kills actually come from abilities in the game).
The Vandal was the most lethal weapon, with 10.544 kills throughout the tournament for all teams, followed by Phantom at 4.386.
Sharpshooter
ZmjjKK from EDward Gaming got 69 kills with the Operator, the most in the tournament.
VALORANT Viewership in 2023
With a $2.25 million prize pool and an intense Grand Finals, it's no wonder that the VCT had 1.29 million peak viewers and 491,683 average viewers throughout.
While an incredible viewership to be proud of, it's actually not as high as last year. According to Esports Charts, the 2022 VALORANT Champions had a little over 1.5 million peak viewers and 528,817 average viewers.
The difference between last year and this year isn't that much, but it still has some in the VALORANT community wondering what led to the slight decline instead of the predicted increase. One factor could be the change in location from Istanbul in 2022 to Los Angeles in 2023, making matches harder to watch for Asian fans. Moreover, as fan-favourite LOUD didn't make it to the finals, some fans might have opted out of watching the remainder of the tournament.
Co-streaming in VALORANT
Another development in competitive VALORANT viewership is the exploding co-streaming sector. According to Sully Gnome, streamer Tarik reached a new all-team peak of 215,600 concurrent viewers while he streamed the Grand Finals. He was joined by many big-name guests that most likely increased the appeal of his broadcast, live from Los Angeles.
RELATED: How co-streaming works and its role in esports
This is obviously exciting news, as viewers get the option to choose if they want to watch the tournament with a streamer such as Tarik, on the official VALORANT broadcast or in person. No specific option is bad, as viewers get to see the incredible work casters, players and production put in regardless. Co-streaming just adds another layer to the experience.
Riot Games' Head of VALORANT Esports, Leo Faria accentuated the fact in pre-Challengers press conference as quoted by GGRecon "We knew there was an appetite for creators to bring their own personality and their own communities into our show. So we see co-streaming viewership and we are just incredibly happy because their success is our success and vice versa,"
This was clearly a massively successful VCT Champions that the entire VALORANT community — and Elon Musk — couldn't resist watching, whether it was the main channel, a co-stream, or in person.
Los Angeles Makes Waves in VALORANT Community
Another big draw of the VALORANT Champions 2023 tournament was the location. Riot Games really hyped up the appeal of Los Angeles, where their headquarters are also stationed.
Along with the overall aesthetic of the event being pretty hype — with neon lettering and palm trees — it also inspired a lot of exciting reveals throughout the tournament. This includes the latest map, Sunset, inspired by Gekko's hometown of LA.
Los Angeles has a massive esports community and many people showed up to watch the event in person or at watch parties throughout the city. The excitement surrounding the event was pretty massive and could be felt by the community as a whole, especially for North American fans.
Evil Geniuses being a North American team further added to the hype surrounding VALORANT Champions this year. That combined with the Los Angeles location most definitely brought a spark that ignited fans throughout the United States to tune in and engage.
VALORANT is a growing esports title with a vast audience. With its similarities to CSGO(CS2) but lack of gore and terrorists positions it in a good position for sponsors and sports books alike. If there's an esports with a bright future, it is definitely VALORANT. If you need data or odds for the game, please reach out!